My co-worker brought this crunchy dip to work two weeks ago. She served it with pretzels and sliced apples. I am not too fond of sweet treats (I am more of the savory type), but the sliced tangy apples taste so good with the sweet crunchy dip. They are a match made in heaven.
It wasn't the first time that she brought this dip to work. When she brought it in, I asked for the recipe. On Saturday, I was able to make it for a birthday celebration I was attending.  Along with the crunchy dip, I also made spaghetti and baked Korean-style ribs. I made the dip ahead of time and stored it in the fridge for the time being. Unfortunately, when it was time to go, I forgot to bring it.  Fortunately for my family, we had more candy crunch dip to enjoy.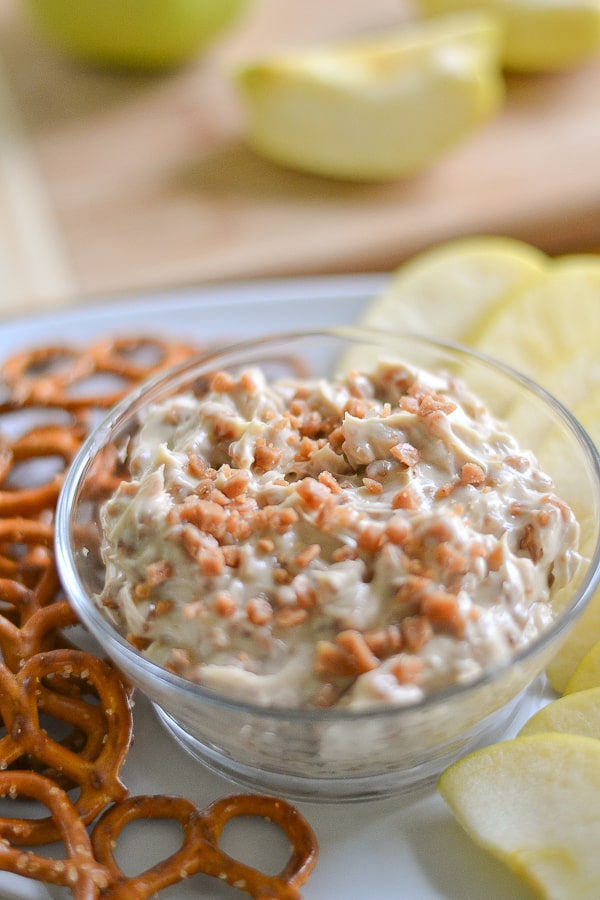 Candy Crunch Dip
Ingredients
1 (8-ounce) package room temperature cream cheese
½ cup dark brown sugar
¼ cup white sugar
1 teaspoon pure vanilla extract
1 (8-ounce) package chopped toffee bits (such as Heath or Skor), divided
Apples, graham crackers and/or pretzels for serving
Instructions
In a stand mixer or with a hand mixer, blend together cream cheese, brown sugar, white sugar, and vanilla until smooth. Stir in all but a handful of the toffee bits. Transfer to a bowl and garnish with remaining toffee bits. Serve with sliced apples, graham crackers or pretzels.