It has been a while since I cooked chicken wings. It is not because my family does not like eating wings, but because we have changed our eating habits. In addition, I have been trying to extend my repertoire by cooking other types of dishes. Despite these changes, chicken wings have and always will be our favorite, especially when it's fried and crispy. This buffalo chicken wings recipe is a nice change from the usual honey garlic wings I normally make. I find this dish very easy to make. The wings were fried and then tossed with the hot sauce mixture. I prefer milder chicken wings so I just added 3 tablespoons of hot sauce. It turned out perfect, the way I like my wings. My family prefers to eat it by itself but I enjoyed my wings with blue cheese dipping sauce and of course celery sticks. Yummy!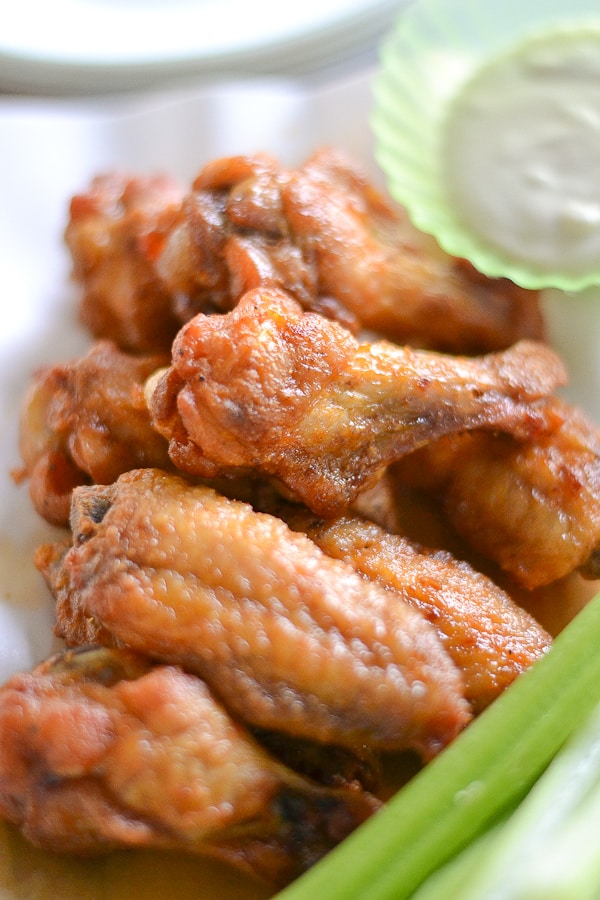 Buffalo Chicken Wings
Ingredients
¼ cup butter
3-5 tbsp hot red pepper sauce (3tbsp for milder wings)
1 ½ tbsp red wine vinegar
2 ½ lbs chicken wings, mixture of drumettes and wingettes
Seasoning salt
Vegetable oil for deep frying
Blue cheese dressing
1 oz blue cheese, crumbled
¼ cup mayonnaise
¼ cup sour cream
Instructions
Mix ingredients for dressing in food processor and chill until serving time.
Melt butter in large saucepan. Stir in hot sauce and vinegar. Set aside.
Pat dry chicken wings with paper towels. Sprinkle with seasoning salt.
Heat oil in a large frying pan. Add wings a few at a time and cook for 10 minutes, or until brown and crispy. Drain on paper towel. When all wings are cooked, reheat hot sauce and toss wings to coat.
Serve with the blue cheese dressing and few celery strips.
Enjoy!
Notes
Recipe source: The Best of the Best and More Cookbook.