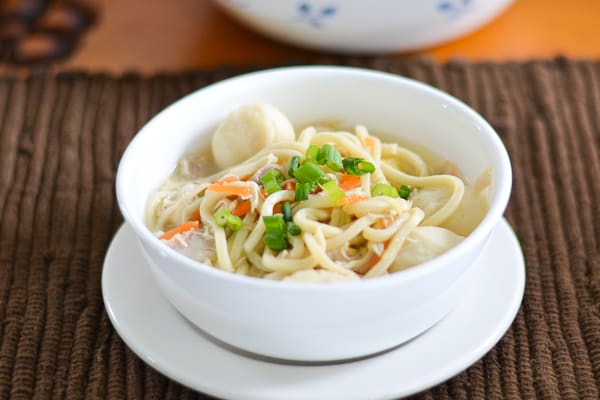 I can't believe it's October already.  I still wear Capri pants to work but I can feel that fall is here. Mornings and nights are getting colder, leaves are changing their color and pumpkins are everywhere. Yes, definitely fall is here. Hence, soup was the first thing that came to my mind when I was preparing dinner.
This recipe is another way of making use of left-over roast chicken meat and bones.  It is only my husband and I in the house so I have so much left-over roast chicken from lunch.  I used some for the soup and the rest for chicken salad sandwich. This noodle dish is another versatile dish; you can add any meat, seafood or vegetables you want.  A hot bowl of this hearty and satisfying noodle soup is a perfect dinner on a cold fall night 🙂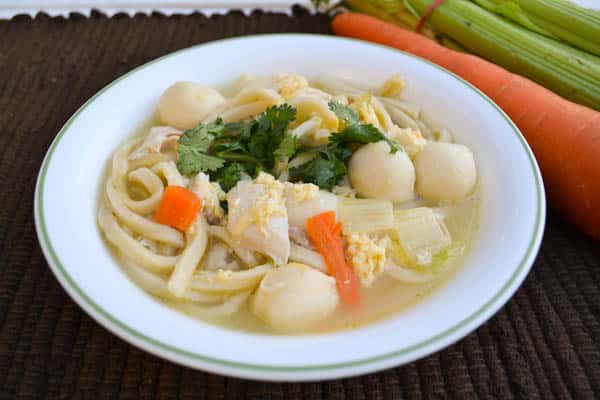 Chicken and Fish Ball Noodle Soup
Ingredients
1 cup flaked roast chicken meat
Bones from roast chicken
10 cups water
1 teaspoon dried parsley
1 tablespoon salt
½ teaspoon ground pepper
200g fish ball
500g fresh Shanghai noodles
½ cup chopped celery
½ cup julienned carrots
1 cup shredded napa cabbage
2 eggs, beaten
Chopped cilantro
Salt and pepper to taste
Instructions
Boil water over medium heat. Add chicken bones, parsley, salt and pepper. Simmer for 10 minutes.
Add carrots, celery, cabbage and chicken meat. Cook for 5 minutes.
Remove all bones, and then add fish balls and noodles. Cook for another 5 minutes. Season to taste.
Remove from heat then slowly pour in the eggs while stirring constantly.
Garnish with chopped cilantro and serve.
Enjoy!