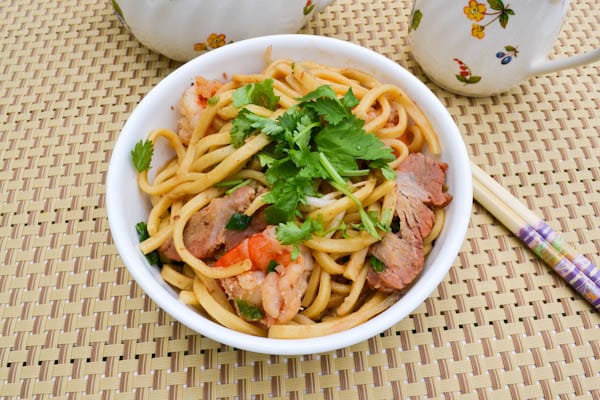 It was an exciting morning the other day. Our neighborhood had a surprise visit from a big black bear.  The hungry bear was rummaging through garbage looking for food.  The scary thing about this scenario was that it happened at 7:30 in the morning. The bear was initially spotted at my neighbor's place, who by the way owns a day care center. Parents who were dropping their kids off saw the bear and one even tried to take a picture. The bear then moved from house to house tipping over garbage bins to look for food.  I did not see the bear, but just hearing the story from my neighbors gave me the goose bumps. That evening, I was deciding on what to cook. One of my favorite things to eat is any kind of noodles. I also noticed that I had some leftover barbecue pork in the fridge.  So, looking through my cookbooks, I found the perfect recipe that utilizes the barbecue pork, prawns and Shanghai noodles. First the prawn and the barbecue pork are stir fried. Shanghai noodles are then added together with the sauces and vegetables. The result is a simple noodle dish that is full of flavor!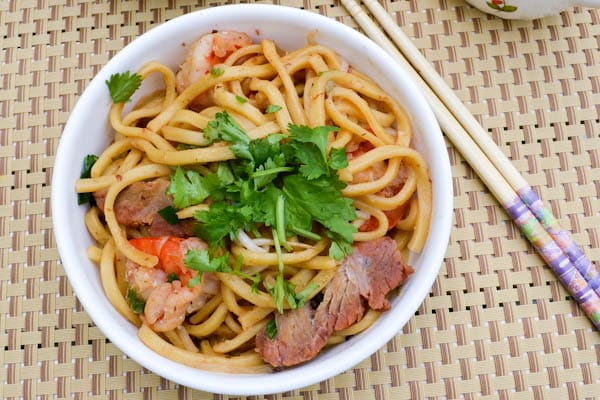 Shanghai Noodles with BBQ Pork and Prawns
Ingredients
1 lb prawn
½ lb Chinese barbecue pork
1 lb Shanghai noodles
¼ cup peanut or vegetable oil
2 cloves garlic, finely chopped
1 tablespoon black bean garlic sauce
1 tablespoon soy sauce
1 tablespoon white vinegar
¼ cup chicken stock
1 cup fresh bean sprouts, rinsed and drained
4 pieces baby boy choy, rinsed, drained and cut into smaller pieces
3 spring onions, finely sliced
Fresh cilantro leaves, for garnish
Instructions
Peel and devein the prawns. Cut the pork evenly into thin slices.
Cook the noodles in a large pan of rapidly boiling water until just tender. Drain and set aside.
Heat the oil in a wok or heavy-based frying pan, swirling gently to coat the base and sides. Add the garlic and cook, stirring until pale gold. Add the prawns and pork, and stir for 3 minutes, or until the prawns are pink.
Add the noodles to the wok with the black bean garlic sauce, soy sauce, vinegar and stock. Stir-fry until the mixture has heated through and the sauce has been absorbed.
Add the bean sprouts, boy choy and green onions. Cook for 1 minute. Place in a serving dish and garnish with chopped cilantro.
Enjoy!
Notes
Adapted from "The Essential Asian Cookbook"