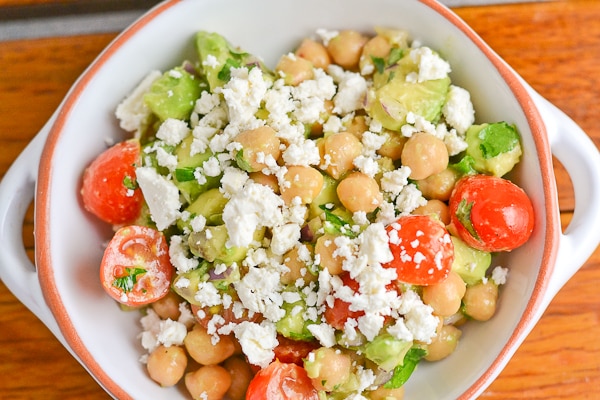 Now that the weather is warming up, this delicious chickpea, tomato and avocado salad is an ideal meal to have any time of the day.  I had it for dinner on Thursday night and had it again for lunch at work the next day.  I used fresh ingredients like tomato, onion, parsley and avocado.  They are full packed of vitamins and minerals that are good for our body. Furthermore, I added my favorite bean, chickpea as the main protein for this salad. The dressing that binds all the ingredients together consists simply of extra virgin oil, lemon juice and minced garlic.  The lemon juice adds tanginess to salad and also prevents the avocado from discoloring.  This salad is creamy, in a good way, because of the avocado but a sprinkle of crumbled feta cheese makes it even creamier and tastier. Enjoy!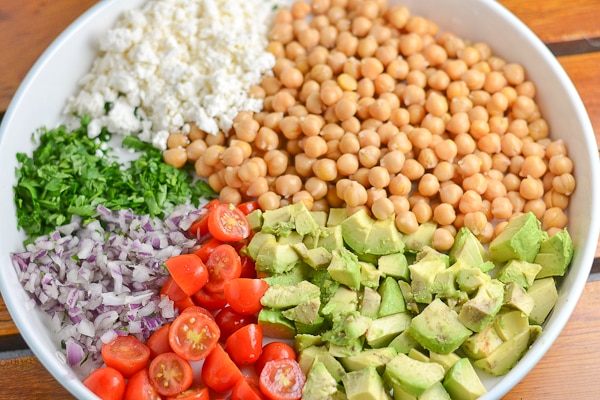 Chickpea, Tomato and Avocado Salad
Ingredients
1 (14 oz) can chickpeas, rinsed and drained
15 grape or cherry tomatoes, halved
¼ cup finely chopped red onion
¼ cup finely chopped flat-leaf parsley
2 small avocadoes, peeled, pitted and cubed
½ cup crumbled feta cheese
Dressing:
3 tbsp extra virgin olive oil
3 tbsp lemon juice
1 clove garlic, minced
Salt and black pepper, to taste
Instructions
In a medium mixing bowl, whisk together olive oil, lemon juice and garlic. Season with salt and pepper to taste. Stir in chickpea, tomatoes, red onion and parsley.
Add avocado; toss gently. Serve with a sprinkle of feta cheese over the top.
Enjoy!
Nutrition Information
Calories:
411
Fat:
27g
Saturated fat:
6g
Trans fat:
0
Carbohydrates:
39g
Sugar:
3g
Sodium:
501mg
Fiber:
14g
Protein:
15g
Cholesterol:
17 mg