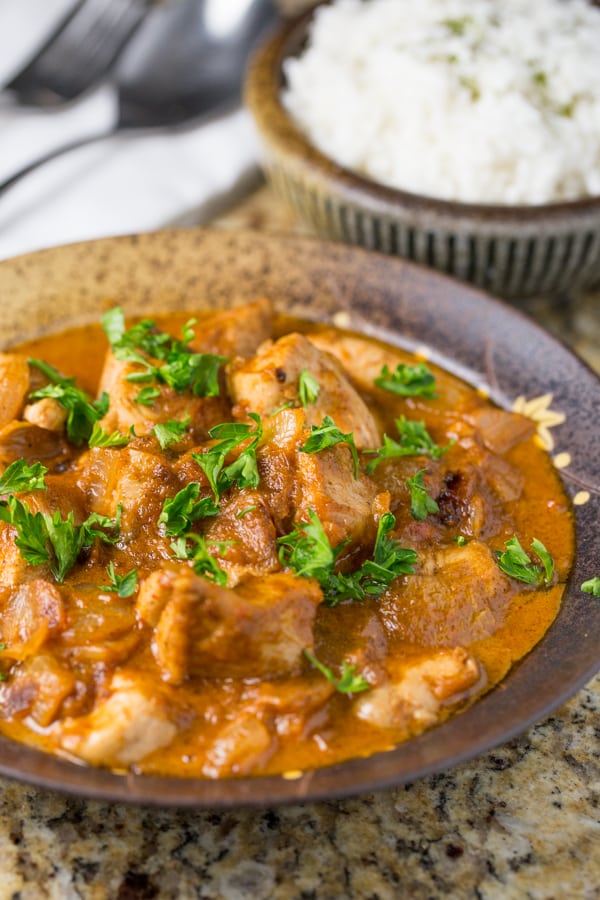 This creamy chicken curry is inspired by butter chicken, a popular Indian style curry dish. It reminds me of one of the popular dishes on my blog: coconut curry chicken, except heavy cream is used in place of coconut milk. Like butter chicken, this curry dish starts off by caramelizing onions. This crucial step adds the necessary sweetness that makes this dish so good. After caramelizing the onions, garlic, garam masala, paprika and salt are added and cooked until fragrant. Garam masala is a blend of spices used in Indian cuisine. It is typically used in curries and gives this dish its distinct curry taste. After that, the cream and tomatoes are added to the pan and finally the chicken breast. The chicken is simmered until fully cooked. The result is a delicious curry dish that is not too hot. The dish is creamy and savory with a hint of spice. Serve it with steamed rice and garnish it with cilantro and you have the perfect dinner! Enjoy!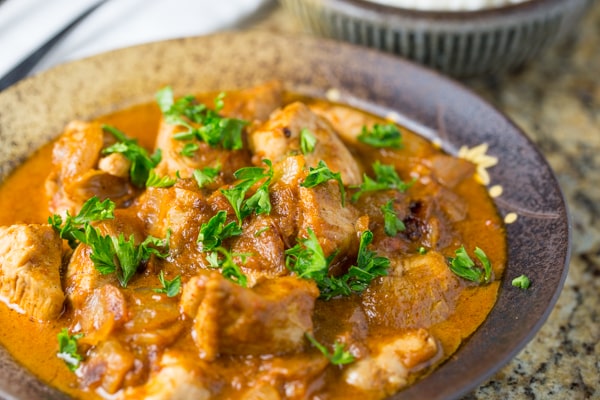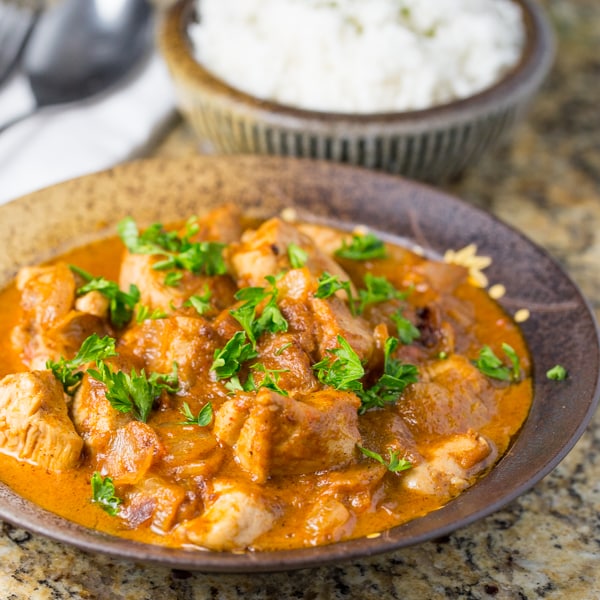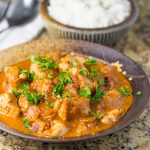 Creamy Chicken Curry
Ingredients
2

lbs

chicken breast

, cut into 1 inch cubes

¼

cup

vegetable oil

1

large onion

(about 1 lbs), chopped

2

tomatoes

(about 1 lbs total), diced, pureed or blended

1

clove

garlic

, minced

2

tbsp

garam masala

1

tsp

salt

1

tsp

paprika

¾

cup

of whipping cream or heavy cream
Instructions
In a large pan, heat the oil over medium-low heat. Add the onions and slowly cook them until golden and caramelized, about 15 minutes.

Add garlic and stir for about 1 minute. Add the garam masala, paprika and salt.

Stir in the tomatoes and the cream and cook for 2 minutes.

Add the chicken breast and simmer over medium-low heat, stirring occasionally, until cooked through and meat is no longer pink, about 15 minutes.

Serve over rice and garnish with cilantro.