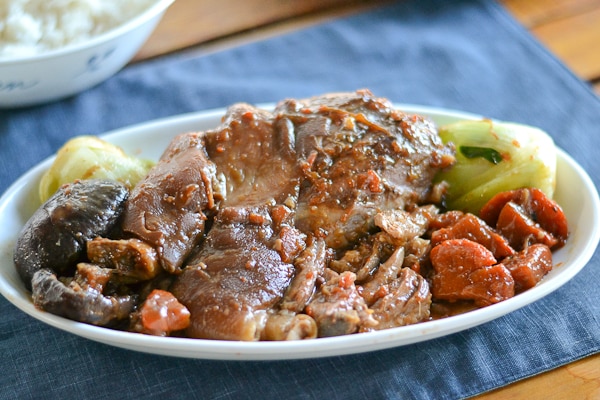 Pata Tim is a dish that we have to phone and order ahead of time if we want to have it at a Chinese restaurant. This is because it takes a really long time to cook it. I have tried cooking it at home and it took 2-3 hours of slow simmering to achieve tender, fall-off-the-bones pork hock meat. For this recipe, I used a slow cooker to cook the meat overnight and then finished it off on the stove. I added carrots and our family's favorite; shitake mushrooms and bok choy.  The meat was so tender, tasty and delicious. I am thinking of making this to our family Christmas potluck. I am pretty sure that everyone will like it .
Slow Cooker Chinese Stewed Pork Hock (Pata Tim)
Ingredients
2½ lbs pork hock
¾ cup soy sauce
1 tsp whole peppercorn
2 bay leaf
1 piece star anise
½ cup brown sugar
2 tbsp liquid seasoning (Knorr or Maggie)
5 cups water
1 medium carrot, peeled and sliced thinly
8 pcs dried shiitake mushrooms, soaked in hot water for 20 minutes and drained
Bunch bok choy
Instructions
In slow cooker, combine soy sauce, peppercorn, bay leaf, star anise, brown sugar, liquid seasoning and water. Mix well; add pork hock and carrots. Cover and cook on low heat for 8 hours.
Gently transfer pork hock and carrots onto a serving platter. Scoop 2 cups of the sauce into a pot and bring to a boil over medium high heat. Add mushrooms and bok choy. Reduce heat, cover and let simmer for 15 minutes.
Dissolve 2 tbsp cornstarch in 2 tbsp water; slowly add to the sauce. Stir until sauce thickens. Turn off heat. Scoop vegetables and place around pork hock. Pour sauce over meat and vegetables.
Serve and enjoy!