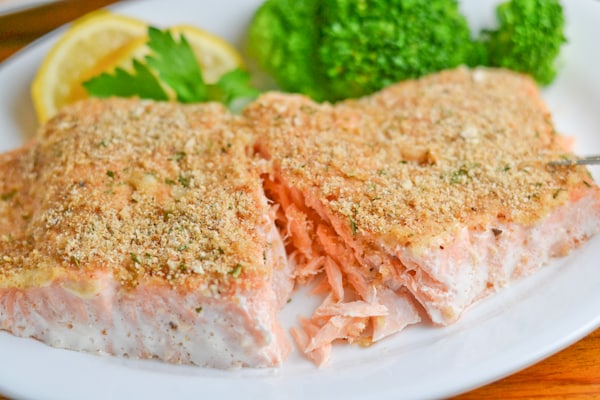 This week has gone by so quickly. It is my first week back to work after the summer vacation. I am finding that there are so many things to do and it is hard to go back to my daily routine. It is a good feeling though to see old, familiar faces as well as new ones. One routine that I have to get used to again is making quick dinners after a whole day at work. This baked salmon recipe is one of those quick and easy recipes that I made this week. It is inspired from one of the popular salmon dishes in my blog, Baked Salmon with Herbed Mayo.  Aside from mayonnaise, lemon juice and seasoning salt, an additional topping of Italian bread crumbs is sprinkled on top of the salmon fillets.  It gives this dish more taste and texture. This salmon dish is healthy, delicious and a crowd pleaser.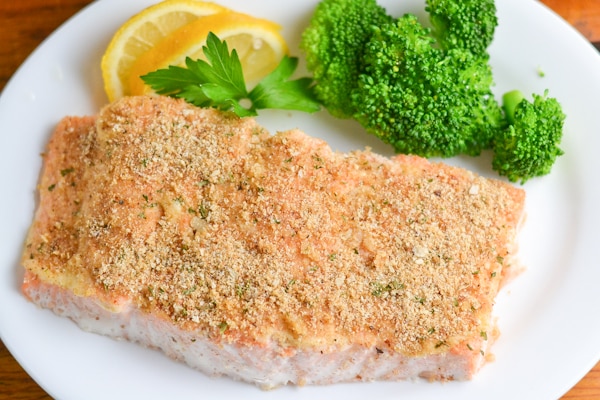 Crumb Crusted Baked Salmon
Ingredients
4 (6 oz) skinless salmon fillets
3 tbsp mayonnaise
1 tsp lemon juice
½ tsp seasoning salt
¼ cup Italian flavored bread crumbs
Instructions
Preheat oven to 400 degrees F. Line a baking sheet with aluminum foil and grease with vegetable oil. Place salmon fillets on prepared sheet.
In a small bowl, combine mayonnaise, lemon juice and seasoning salt. Stir and mix well.
Spread mayonnaise mixture evenly over salmon fillets. Sprinkle and press bread crumbs evenly over the top.
Bake for 12 minutes or until salmon flakes with a fork and topping is lightly browned.
Serve with vegetables or salad.