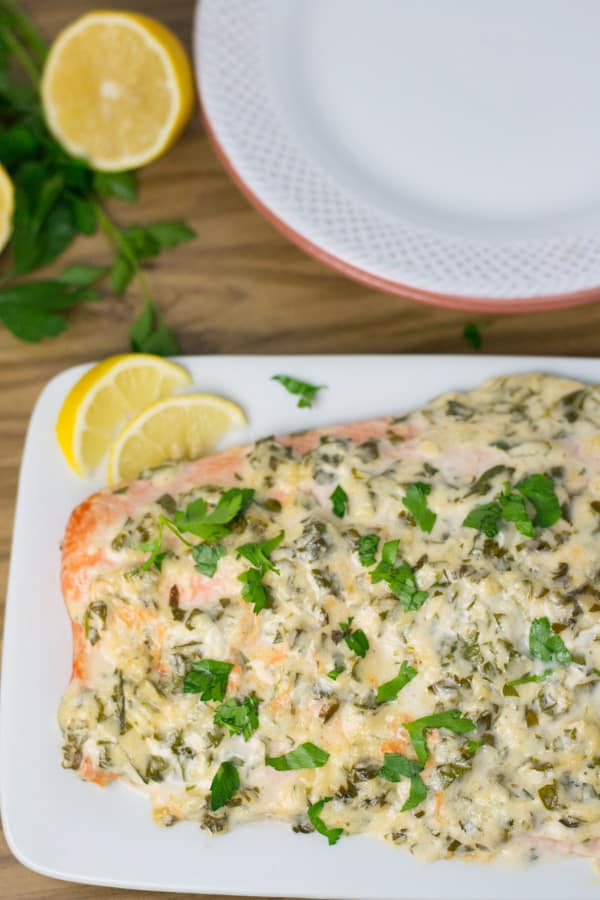 I first tasted this baked salmon with herbed mayo at a New Year's get together with my sister and her family a few years ago. Everyone brought their own special dish to share. It included dishes like vegetarian pot pie, chicken macaroni soup, Korean barbecue ribs, chicken cacciatore and my nephew's baked salmon with herbed mayo. The baked salmon was the favorite and it was the first one to go.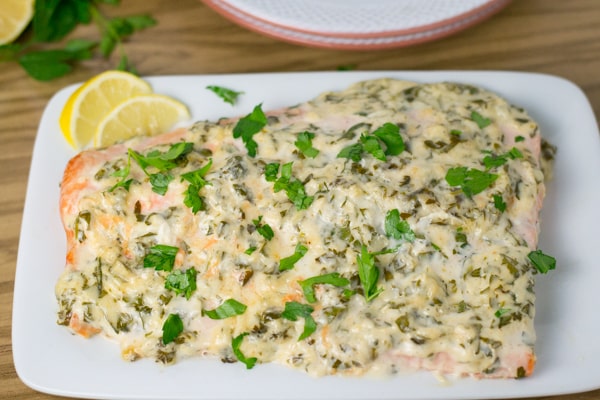 Baked salmon is a huge favorite in my house. I usually just sprinkle salmon with seasoning salt and bake it. But after tasting my nephew's baked salmon, it has become a regular dish at my house now.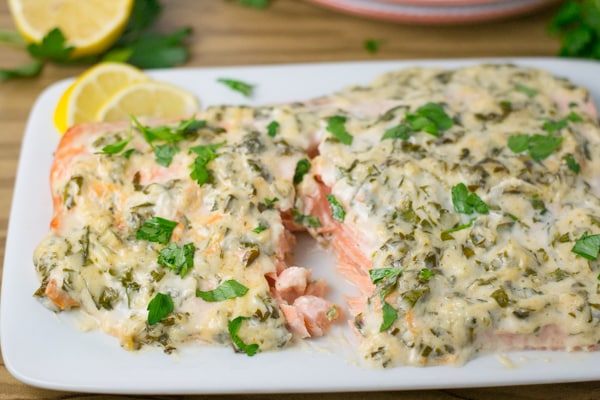 Baked salmon with herbed mayo is such an easy to follow recipe. It also consists of a few and easy accessible ingredients. A mixture of mayonnaise, chopped parsley, lemon juice and seasoning salt was spread all over the salmon and then the salmon was baked for 20 minutes.  The herbed mayonnaise mixture kept the salmon nice and moist while in the oven baking and at the same time it added flavor and texture to the dish.  This baked salmon with the herbed mayo was delicious and satisfying. No wonder it is a staple at any Filipino gatherings I go to.  Enjoy!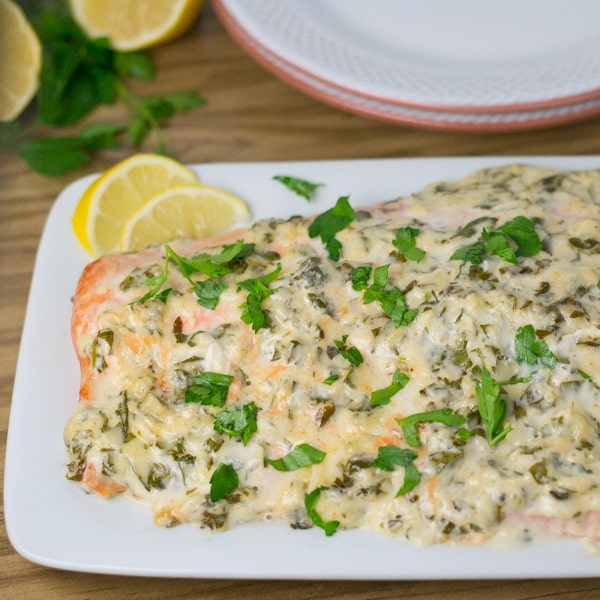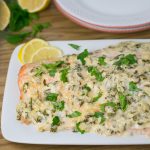 Baked Salmon with Herbed Mayo
Ingredients
1

lb

salmon fillet

1

cup

mayonnaise

1

cup

chopped fresh parsley

1

tablespoon

lemon juice

2

teaspoons

seasoning salt
Instructions
Preheat oven to 350°F. Line a baking pan with foil.

In a small bowl, combine together mayonnaise, parsley, lemon juice and seasoning salt. Mix well.

Place salmon fillet on prepared pan. Spread mayonnaise mixture evenly over the salmon.

Bake salmon fillet for 20-25 minutes or until salmon flakes easily with a fork.

Serve and enjoy!

If you enjoyed this baked salmon dish, here are some others that I have made:
Salmon with Creole Mustard Sauce
Roasted Salmon with Potatoes and Mushrooms
Broiled Salmon with Ginger Honey Glaze
Oven Poached Salmon with Honey and Thyme