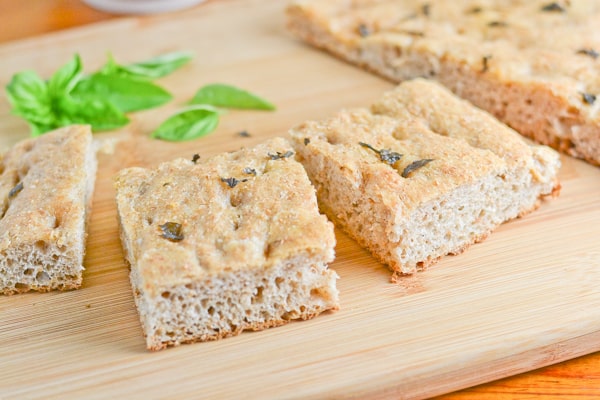 In early June, my son and I made garlic, rosemary and thyme flavored focaccia bread. My family loved it so much, so we made it several times over the summer. The other night, I made delicious soup for dinner and my son and I decided to serve focaccia bread with it. This time we decided to try a new recipe. We found a good one that uses basil, a herb that we love which abundantly grows in our garden. It also uses whole wheat flour instead of all-purpose flour. The recipe yields two 9X13-inch focaccia bread, one of which we had with the soup while the other one was used to make sandwiches. Although I enjoy the focaccia bread with the soup and as a sandwich, dipping them in olive oil-balsamic vinegar mixture is still my favorite way to eat it. Yummy!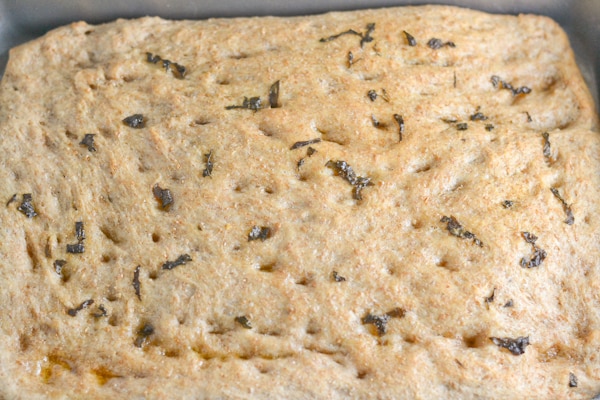 Whole Wheat Basil Focaccia Bread
Serves:
2 (9X13") focaccia bread
Ingredients
2 cups warm water
1½ tsp dry active yeast
½ tsp honey
4 cups whole wheat flour
3 tbsp olive oil
1 tsp salt
Basil-olive oil mixture:
2 tbsp chopped fresh basil
5 tbsp olive oil
¼ tsp red chili powder or paprika
Instructions
In a small saucepan, combine ingredients for basil-olive oil. Place pan over low heat for 5 minutes. Set aside.
In a large bowl, combine warm water, yeast and honey. Let sit for 5-10 minutes until frothy.
In a large separate bowl, combine 2 cups flour, oil and salt. Mix together, then add ½ of the yeast solution and stir again.
Add 1 cup flour and remaining yeast mixture and stir.
Stir in the remaining cup of flour. Once the dough comes together, transfer to a floured surface and knead the dough until smooth, elastic, soft and slightly sticky.
Transfer dough to a large oiled bowl, cover with a warm, damp kitchen towel and let rise for 1 ½ to 2 hours.
Preheat oven to 400 degrees F. Grease two 9X13 inch baking pans.
Cut dough in half. Transfer each half the dough to a prepared pan then press it down into the pan. Use your fingers to dimple the dough then drizzle the top with ½ of the basil-olive oil mixture. Cover with kitchen towel and let rise for another 30 minutes.
After half an hour, remove towels from the two pans and then sprinkle a dash of salt over the dough. Bake for 20-30 minutes or until golden brown. Transfer focaccia bread to a wire rack and let cool.
Slice the basil focaccia when warm or cooled down and serve immediately.