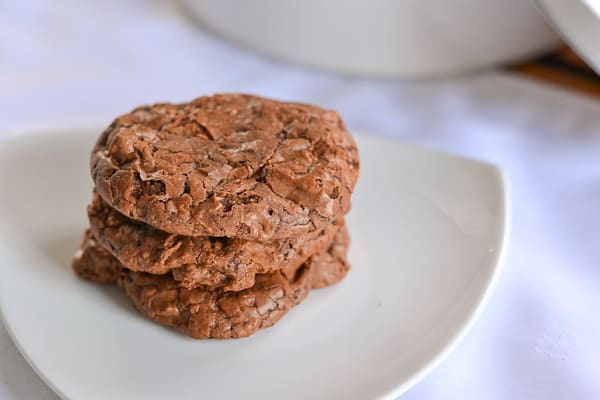 It was my turn to bring treats to work on Tuesday so I decided to make chocolate zucchini loaves and cookies. I decided to try this chocolate chunk cookie recipe because I knew it is something people at work would not be able to resist. Aside from the two different kinds of chocolates, this recipe has also walnuts and shredded coconut. And to make it more chocolatey, cocoa powder is added as well. I was not mistaken, everyone loved it. The few people who know I have blog told me to post it. So, here it is… the irresistible double chocolate walnut chunk cookies. Indulge!

Double Chocolate Walnut Chunk Cookies
Ingredients
1 cup chopped walnuts
6 oz (170g) semi-sweet chocolate, chopped
¼ cup unsalted butter, cut into pieces
2 eggs
¾ cup granulated sugar
1 teaspoon vanilla
¼ cup all-purpose flour
¼ cup cocoa powder, sifted
½ teaspoon baking powder
¼ teaspoon salt
¼ cup sweetened shredded coconut
3 oz (85g) milk chocolate, chopped
Instructions
On baking sheet, toast walnuts in 350°F oven until fragrant, about 8 minutes. Set aside.
In heatproof bowl over saucepan of hot water (not boiling) water, melt semi-sweet chocolate with butter, stirring occasionally. Let cool slightly.
In large bowl, beat eggs with sugar until pale, about 2 minutes. Stir in vanilla and chocolate mixture.
Whisk together flour, cocoa, baking powder and salt; stir into chocolate mixture. Stir in walnuts, coconut and milk chocolate.
Drop by heaping 1 tbsp, about 2 inches apart, onto parchment paper-lined or greased baking sheets.
Bake in 350°F preheated oven until no longer shiny and tops begin to crack, about 10 minutes. Let cool in pans on racks for 2 minutes, if desired flatten slightly with spatula. Transfer to racks and let cool completely.
Enjoy!
Notes
Recipe source: Canadian Living