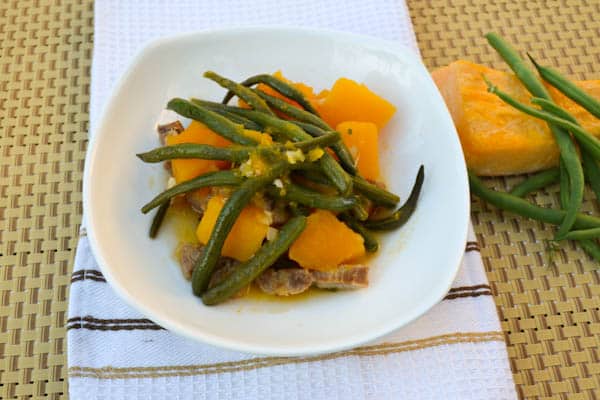 Squash was one of my favorite vegetables to cook when my kids were growing up. I used to mash and combine it with other foods. It is highly nutritious and very versatile as it can be baked, sautéed with other vegetables or cooked as a soup. My favorite way of cooking squash is to sauté it with green beans – Ginisang Kalabasa at Baguio Beans.
Ginisang kalabasa is a Filipino dish that I learned to cook from my mom.  It traditionally consists of squash and snake beans (sitaw). Snake beans are not only  expensive here in Vancouver but also tastes different than what I am used to. Therefore, I have been substituting it with green beans. In addition, it consists of strips of pork, sautéed with garlic, shallot, tomato and fish sauce. Squash and green beans are then added afterwards. What do I love most about this dish? The tenderness and texture of the squash 🙂
Ginisang Kalabasa at Baguio Beans (Sautéed Squash and Green Beans)
Ingredients
½ lb pork shoulder butt or pork belly
1 lb green beans, trimmed
1 lb squash, peeled and cubed
4 cups water
2 tablespoon olive oil
2 cloves garlic, chopped
1 small onion, chopped
1 small tomato, chopped
2 tablespoons fish sauce or salt
Instructions
Cook pork in 4 cups of water and 1 tablespoon of salt for 30 minutes or until tender. Reserve broth.
Cut cooked pork meat into strips. Set aside.
Heat oil; add garlic and sauté until light brown. Add shallot and tomato. Cook for 1 minute.
Add 1 tablespoon fish sauce or salt and stir to blend flavors. Add pork pieces and stir for a minute.
Add squash, stir and then add 2 cups of reserved broth. Cook for 2 minutes.
Add green beans and cook for another 8 minutes or until vegetables are cooked.
Season to taste. Serve and enjoy!