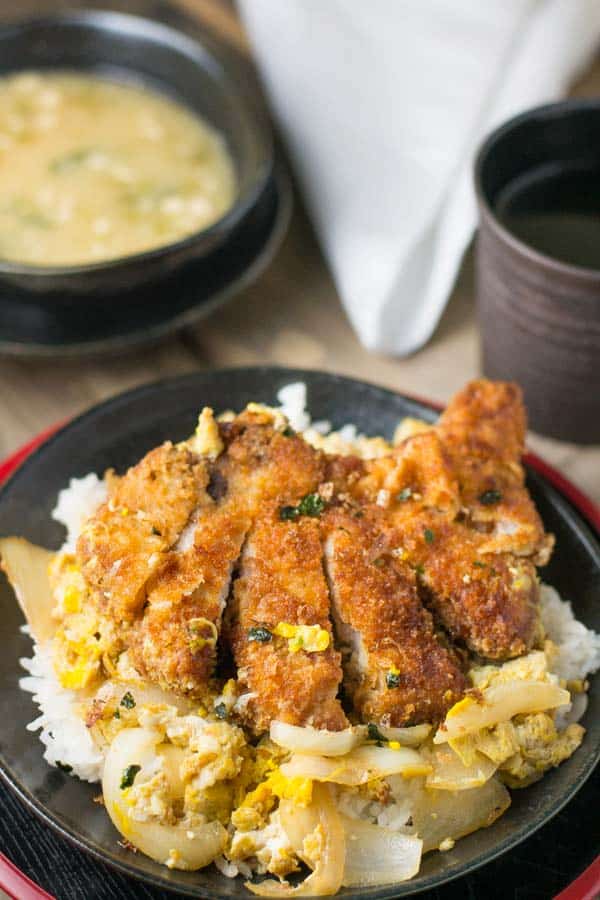 We usually have tonkatsu, which is a Japanese style breaded pork cutlet whenever we eat out but after I made it at home, we seldom order it anymore. Making tonkatsu at home is quite easy and I usually use the bone-in and thinly cut pork cutlet for flavor and easy frying. I just recently made them for dinner and I had some left-over for dinner the next day. It was just me and my youngest son at home so I decided to use the left-over tonkatsu to make katsudon for dinner.  Katsudon is a bowl of rice topped with tonkatsu cooked in a mixture of egg, onions and broth. I followed a simple recipe from a Japanese cookbook that my oldest son brought for me when he went to Japan. I used a small pan to cook the katsudon individually but a bigger pan may be used if you are cooking multiples for your whole family; adjust the recipe accordingly.  The tonkatsu was simmered in the mixture for a short time and the batter came out still nice and crispy. My son and I enjoyed the katsudon as much as we enjoyed the tonkatsu. It was a hearty and satisfying meal. Enjoy!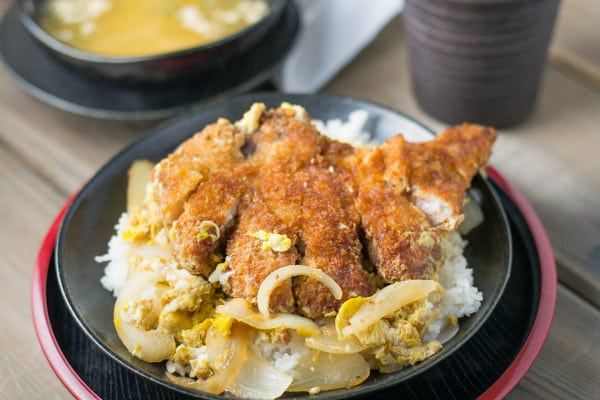 Katsudon (Japanese Pork Cutlet on Rice)
Ingredients
Tonkatsu
2 pork loin chops, bone-in or boneless
Sea salt and freshly ground pepper
1 egg, beaten
¼ cup all-purpose flour
½ cup Panko breadcrumbs
Vegetables oil for frying
Katsudon
½ onion
3 eggs
½ cup chicken broth or water
1 tbsp sake
1 tbsp sugar
2 tbsp mirin
2 tbsp soy sauce
Instructions
Making the Tonkatsu
Prepare the chops by making 3-4 slits on one end to prevent chops from curling when frying. Season chops with salt and pepper.
Spread flour on shallow dish. Beat egg in second shallow dish. Spread Panko breadcrumbs in third shallow dish.
Coat the pork with the flour thoroughly, dip in beaten eggs and then coat with the breadcrumbs, pressing gently to adhere.
Heat the oil in a skillet or wok over medium high heat. Fry the breaded pork chops until browned and cooked. Drain on paper towel-lined plate.
Making the Katsudon
Cut the tonkatsu(s) crosswise into pieces that are a little larger than bite-sized. Peel the onion and slice into wedges. Beat the eggs lightly.
In a bowl, mix together stock, sake, sugar, mirin and soy sauce. Stir well.
In a small frying pan, pour half of the sauce mixture and bring to a boil. Add half of the onion and simmer briefly. Add slices from one tonkatsu. Pour half of the beaten eggs gently along the edge of the simmering sauce, cover and continue to simmer for about 30 second while shaking the pan. Put hot rice into a bowl and top with slices of tonkatsu and egg mixture. Repeat this process for the other portion.
Notes
Recipe source: "Recipes of Japanese Cooking" cookbook