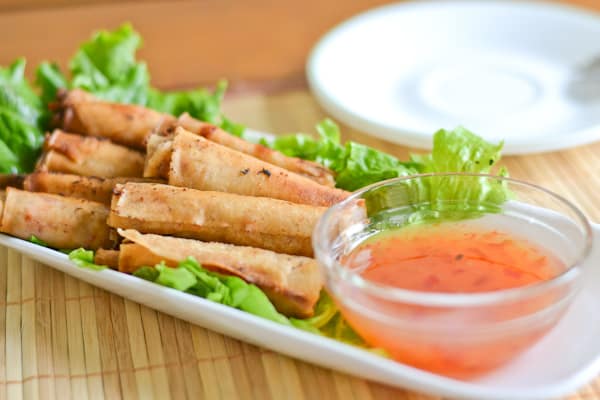 There are so many different kinds of lumpia in the Philippines. There's fried lumpia, fresh lumpia and even a dessert version- turon.  However, lumpiang shanghai is one of my favorite types of lumpia. It is a Filipino style spring roll that uses ground pork as the main ingredient in the filling. This dish is a popular one to bring to a Filipino party or a salu-salo and every time I bring this dish, it is a big hit!
There are many variations of this recipe, but this particular one is very simple and is my favorite. The pork, shallots, carrots and seasonings are combined to make the delicious filling. Then, the wrappers are filled with the meat mixture and is deep fried until the filling is fully cooked. The result is a delicious and crunchy spring roll that you will not be able to stop eating. You can serve this dish with a sweet and sour sauce, a sweet chili sauce or even ketchup. Our family's personal favorite is to dip it in a sweet chili sauce. Enjoy!
Lumpiang Shanghai (Filipino Pork Spring Roll)
Lumpiang shanghai is a type of Filipino spring roll that uses ground pork as the main ingredient. This dish is popular to serve in any Filipino party.
Ingredients
1

(50 sheets) package of frozen 6-inch square spring roll pastry,

thawed and separated

Vegetable oil for frying
Filling:
1

lb

lean ground pork

1/3

cup

grated carrots

3

tablespoons

minced shallots

1

teaspoon

garlic powder

1

tablespoon

soy sauce

1

teaspoon

sugar

1

teaspoon

ground black pepper

1

egg,

slightly beaten
Instructions
In a bowl, combine all the filling ingredients; mix thoroughly.

Wrap a tablespoon of the mixture in each spring roll pastry. For steps on how to wrap spring rolls,

click here

.

Deep fry, a few pieces at a time, in hot oil until golden brown and cooked through, about 4-6 minutes. Drain on paper towels to remove excess oil.

Serve hot with sweet chili sauce or ketchup as a dipping sauce. Enjoy!