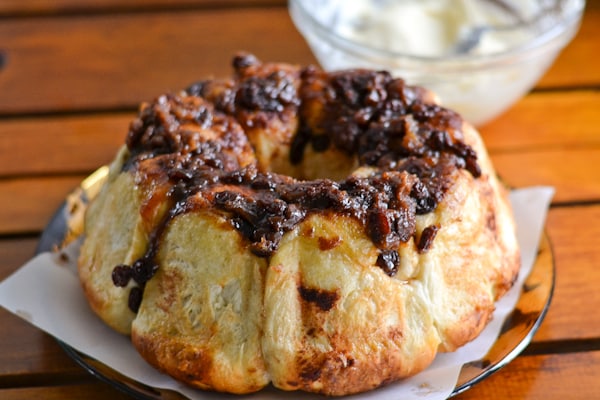 Last week, I was thinking about what to post as my 100th recipe. I was thinking of making something that is delicious and well-liked by children and adults alike. Two weeks ago, my co-worker brought these cinnamon buns to work on a treat day. She used frozen dough and baked it on a bundt pan. It looked good and tasted delicious, as well. I got the recipe and made it at home last weekend. I followed the recipe to the tee and the result was cinnamon buns that are huge and delicious. To make it even better, I made cream cheese frosting to go with it. My family loved it. I made it again on the weekend but this time, I reduced the amount of frozen dough and put some of the mixture at the bottom of the pan. The buns turned out beautiful with all the sugar/butter/cinnamon/raisin mixture on top. Yummy!
I like this recipe because it is quick and easy to make.  It uses store bought frozen dough, so there's no need for rolling pin and kneading.  All I need to do is to prepare it before I go to bed and bake it the next morning. Then, I have yummy breakfast ready for my family.
So, here it is… my 100th recipe, my family's all time favorite cinnamon buns recipe. I hope you all like it as much as my family does 🙂

Cream Cheese Frosting
Ingredients
1 (8oz) package cream cheese
¼ cup butter, softened
1 cup sifted icing sugar
½ teaspoon vanilla extract
Instructions
In a medium bowl, cream together the cream cheese and butter until creamy.
Mix in vanilla, and then gradually stir in the icing sugar.
Land of Nod Cinnamon Buns
Ingredients
16 frozen dinner roll dough
1 cup brown sugar
¼ cup vanilla instant pudding (powder form)
1 tablespoon cinnamon
¾ cup raisins (optional)
½ cup melted butter
Instructions
Grease a 10-inch bundt pan. Sprinkle half of the sugar, half of the pudding powder, ½ tablespoon cinnamon and half of the raisins, if using, around the bottom of the pan. Then pour half of the melted butter.
Arrange 8 frozen rolls on top of the mixture and then arrange the remaining 8 on top of the first layer. (It does not matter how you arrange the frozen dough. The risen dough will take the shape of the bundt pan).
Sprinkle the remaining sugar, pudding powder, raisins and ½ tablespoon cinnamon.
Pour the remaining melted butter all over the mixture.
Cover with a clean, damp cloth and leave overnight at room temperature.
In the morning, preheat oven to 350°F and bake for 25 minutes.
Let sit for 5 minutes and then turn out on a serving plate.
Serve as is or with cream cheese frosting (recipe below).
Enjoy!
Notes
This recipe was adapted from the cookbook "The Best of the Best and more".