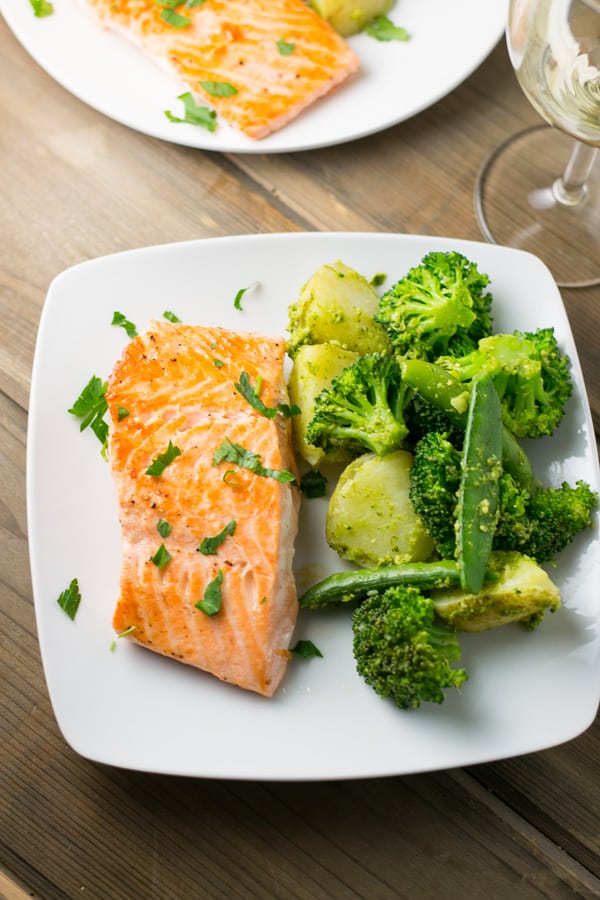 Here is another easy and simple salmon recipe that my family tried and enjoyed for dinner over the weekend. It's easy because it only has a few, easy steps to follow and there's the option of using store-bought pesto sauce. It's simple because the vegetables are simply coated with the pesto sauce after they have been boiled together in a pan. Likewise, the salmon is simply pan fried until just cooked through. The pan fried salmon turned out crisp on the outside but tender and moist inside, the way my family likes our salmon to be. Alternatively, other vegetables like cauliflower, carrots and green beans may also be used. This salmon with pesto dressed vegetables is simple, nutritious and delicious. Enjoy!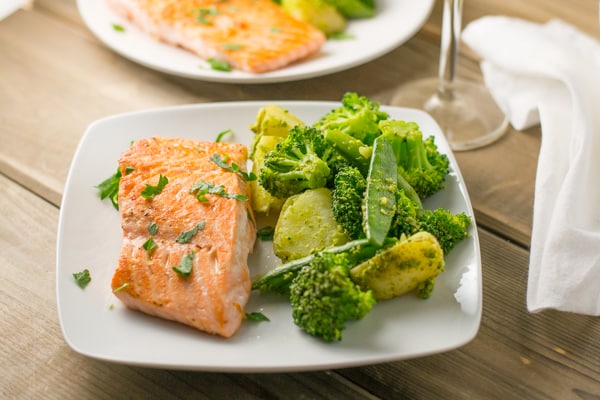 Pan Fried Salmon with Pesto Dressed Vegetables
Ingredients
1 ¼ lbs baby white potatoes
8 oz snap peas, trimmed
8 oz broccoli florets
Pesto, store bought or homemade
4 salmon fillets
Olive oil
1 lemon
Instructions
Scrub the potatoes well and then sliced in halves or quarters, depending on the size.
Fill a large saucepan three quarters of the way up with water, add a pinch of salt and bring to a boil. Add the potatoes and cook for 15 minutes, adding the peas and the broccoli florets for the final 5 minutes. Drain the vegetables well and transfer into a large bowl. Add pesto and stir to coat.
Rub the salmon fillets on both sides with olive oil; season with salt and pepper.
Place the salmon in the hot pan, skin-side down, turn the heat down to medium and cook for 4 minutes, or until golden underneath.
Use a slotted spatula to turn them over, then cook the fillets for 2 to 3 more minutes, or until just cooked through.
Remove the pan from the heat, let rest for 30 seconds and sprinkle the salmon with a good squeeze of lemon juice. Serve with the pesto vegetables.
Enjoy!