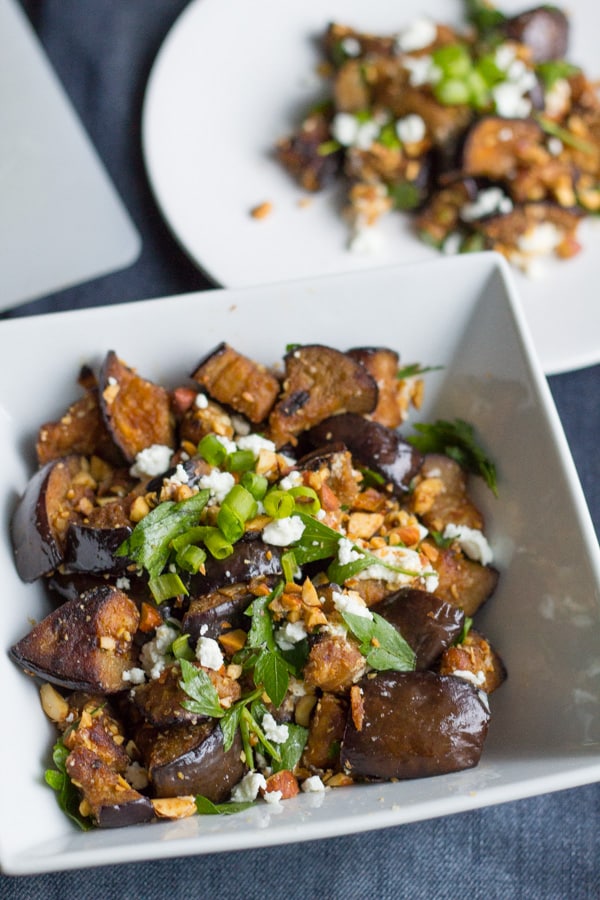 Eggplant is one of my favorite vegetables to eat. There are many different ways I have cooked it in the past, mostly Asian style. Whether it be Fried Eggplant with Basil, or Eggplant Adobo, eggplant dishes never disappoint. So, I decided to make this roasted eggplant salad with goat cheese and almond dish. I am glad to say that it was a huge success!
This dish is so good. It's light, healthy and full of flavor. First, the eggplant is marinated in cider vinegar, olive oil, honey, paprika, cumin and garlic. Then, it is roasted in the oven until very tender. After roasting, parsley and almonds are added for that extra crunch and texture. Finally, the salad is topped with goat cheese and scallions. Overall, I am very impressed with this dish and will be cooking it again and again!
Eggplant Salad with Goat Cheese and Almonds
Ingredients
2 large eggplants (about 2 lbs total)
Salt
⅓ cup olive oil
2 tbsp cider vinegar
1 tbsp honey
1 tsp paprika
½ tsp cumin
4 cloves of garlic, roughly chopped
2 tbsp fresh lemon juice
1 tbsp soy sauce
1 cup parsley leaves, roughly chopped
½ cup almonds, roughly chopped
2 oz. goat cheese, crumbled
¼ cup finely chopped scallions
Instructions
Preheat the oven to 400 F. Cut the eggplant into 1 inch cubes. Place eggplant into a large bowl and sprinkle lightly with salt and set aside.
Meanwhile, combine the olive oil, cider vinegar, honey, paprika and cumin. Dab the eggplant to remove any water that has accumulated. Add the marinade mixture to the large bowl with the eggplant and toss to coat. Stir in the chopped garlic.
On a parchment-lined baking sheet, spread out the eggplant. Roast for 40 minutes, or until very tender. Make sure to stir every 15 minutes.
Remove from the oven. Combine the soy sauce and lemon juice. Return the eggplant to the large bowl and drizzle with the lemon and soy sauce mixture. Stir in the parsley leaves and almonds.
Serve with the crumbled goat cheese and chopped scallions sprinkled on top. Enjoy!