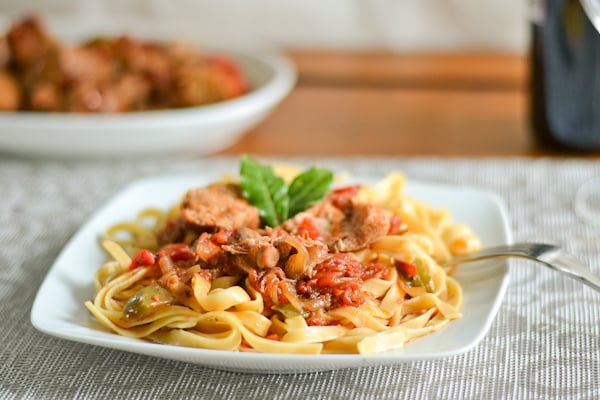 Pasta with braised chicken and sausages is a hearty and comforting dish. The chicken pieces and sausages are braised for an hour in a sauce consisting of red wine, bell peppers, tomatoes, oregano, garlic, onions and bay leaves.  As a result, the chicken meats are tender and flavorful; the sausages are tasty as well as delicious. The sauce may be eaten with rice or your favorite pasta. I served mine with linguini. It was good and very satisfying. Even my two great nieces love it 😀

Pasta with Braised Chicken and Sausages
Ingredients
5 tablespoons olive oil
4 skinless bone-in chicken thighs
4 Italian sausages
2 large onions, diced
1 head of whole garlic cloves, peeled
1 red bell pepper, diced
1 green bell pepper, diced
1 cup red wine
One 28 oz can of diced tomatoes
1 teaspoon dried oregano
2 bay leaves
Sea salt and freshly ground pepper to taste
One 1 lb box of your favorite pasta
Instructions
Heat the olive oil in a Dutch oven or a large pan over medium high heat. Add the chicken pieces and if there is still room, add the sausages. Brown the chicken pieces and sausages on both sides. Brown in two batches, if needed.
Transfer to plate and set aside.
Drain some of the oil from the pan and put back the pan on the heat. Add the onions and stir for a few minutes. Add the garlic and cook for a few more minutes.
Return the chicken and sausages to the pan. Add the peppers, wine, tomatoes, oregano and bay leaves. Season to taste with salt and freshly ground peppers.
Bring to a boil, lower the heat, cover and let simmer for an hour.
Cook the pasta according to the package label. Drain and transfer to a serving plate. Ladle the sauce over the pasta and serve.
Enjoy!
Notes
Recipe source: The Best of Chef at Home