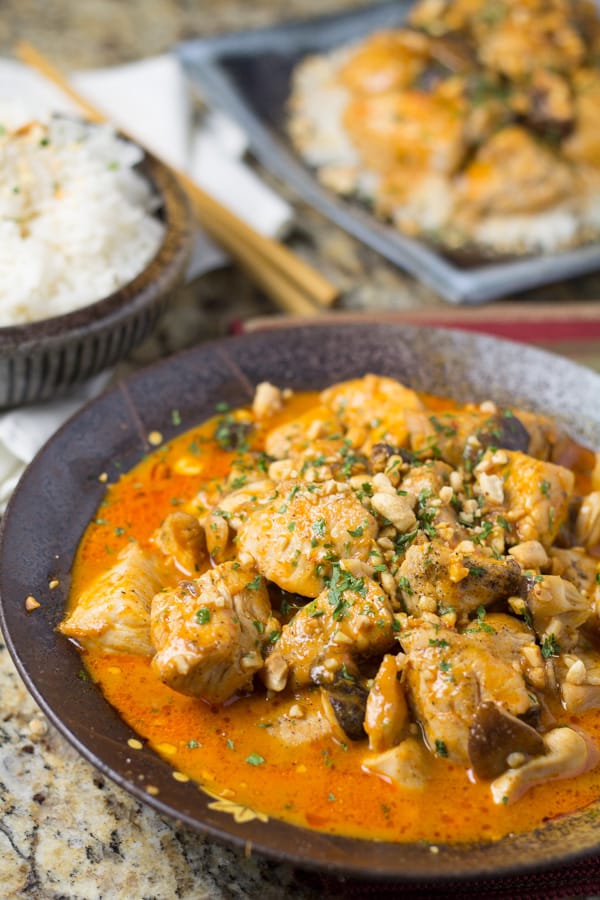 This spicy red curry chicken dish is yet another curry dish that uses coconut milk. A few months ago, I shared a coconut curry chicken dish that uses tomatoes and coconut milk. This dish is different because it is spicy and uses red curry paste. Red curry pastes is typically used in Thai red curry dishes with coconut milk. In this dish, the chicken pieces are cut into bite sized pieces. Then, the chicken is simmered with shiitake mushrooms in a sauce of red curry, coconut milk and fish sauce. The result is a delicious chicken dish in a delicious and flavorful sauce. Enjoy!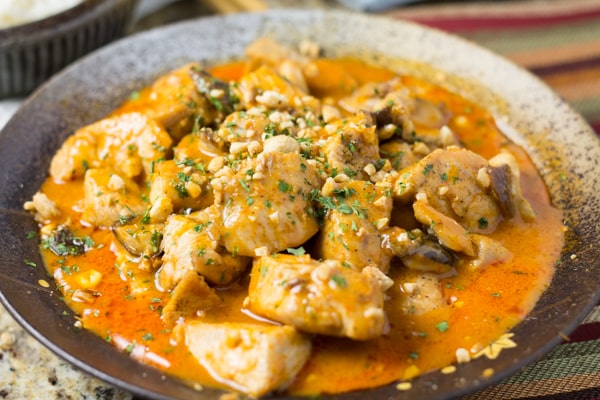 Red Curry Chicken
Ingredients
⅔ cup unsweetened coconut milk
2 tsp Thai red curry paste
1 tbsp fish sauce
3 tbsp vegetable oil
1 ½ lbs skinless, boneless chicken thighs or boneless chicken breasts, cut into ½-inch strips or chunks
Salt and pepper to taste
½ lbs shiitake mushrooms, stemmed, caps quartered
1 tbsp very finely chopped fresh ginger
2 large cloves of garlic, minced
½ cup water
Chopped toasted peanuts and cilantro leaves, for garnish
Steamed rice and lime wedges, for serving
Instructions
In a small bowl, stir the coconut milk, red curry paste, and fish sauce until well combined. Set aside.
Season the chicken with salt and pepper. Heat a large skillet over medium-high heat with 2 tbsp of oil. Add the chicken to the skillet in a single layer. Cook, turning once, until the chicken is browned, but not fully cooked (4-5 minutes). Transfer the chicken to a plate and set aside. Drain and wipe the skillet clean.
Return skillet to the heat and add the remaining 1 tbsp of oil. Add the shiitake mushrooms and stir fry over medium-high heat until lightly browned (about 5 minutes). Add the ginger and garlic and stir fry for 1 minute. Add back the chicken, red curry mixture and water and bring to a boil.
Reduce heat and simmer for 2 to 3 minutes until the chicken is cooked through. You may simmer for longer to reduce the sauce, if you prefer less sauce.
Transfer the chicken to a serving dish. Garnish with chopped peanuts, cilantro and lime wedges. Serve immediately.