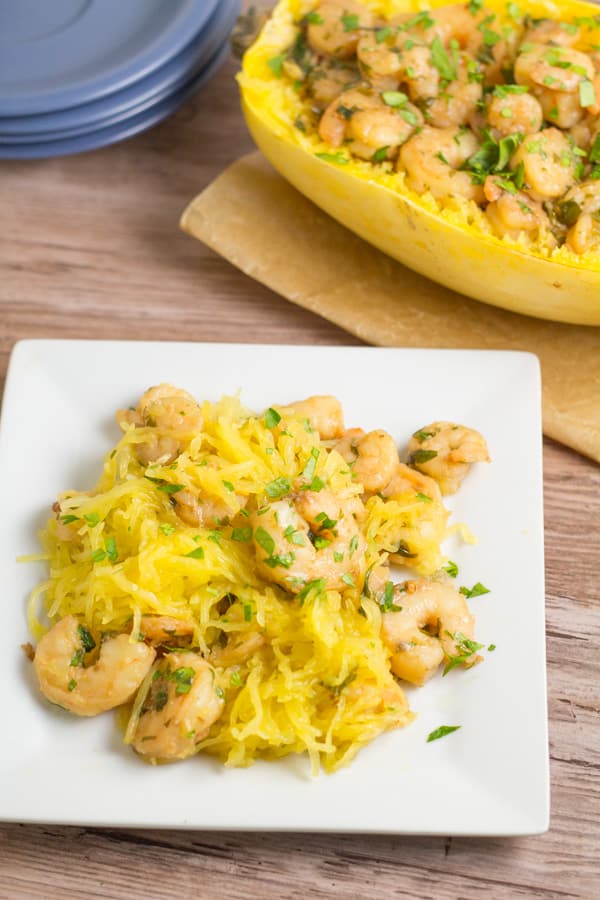 This shrimp scampi spaghetti squash dish is inspired by the shrimp scampi that is usually served with pasta. I decided to use spaghetti squash instead of linguine to make it low carb and a little bit healthier. I also love spaghetti squash and have made several dishes in the past such as spaghetti squash with tomato meat sauce and garlic Parmesan spaghetti squash. I am always pleased with how good those dishes taste, so I decided to make this one too! I was definitely not disappointed.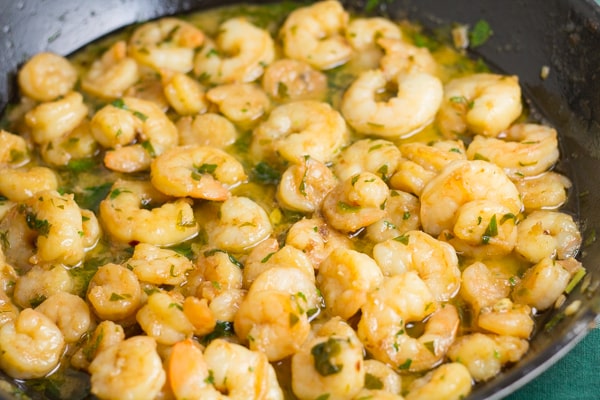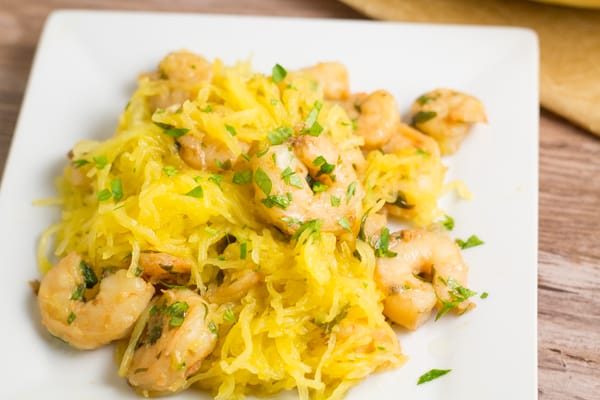 Similar to the other spaghetti squash dishes I have made, the squash is first roasted in the oven. Then, a fork is used to scrape the inside of the squash to create that spaghetti-like structure. The shrimp is cooked with butter, lemon, shallots and garlic. Finally, the two are combined to make this delicious low-carb shrimp scampi spaghetti squash dish. Yum!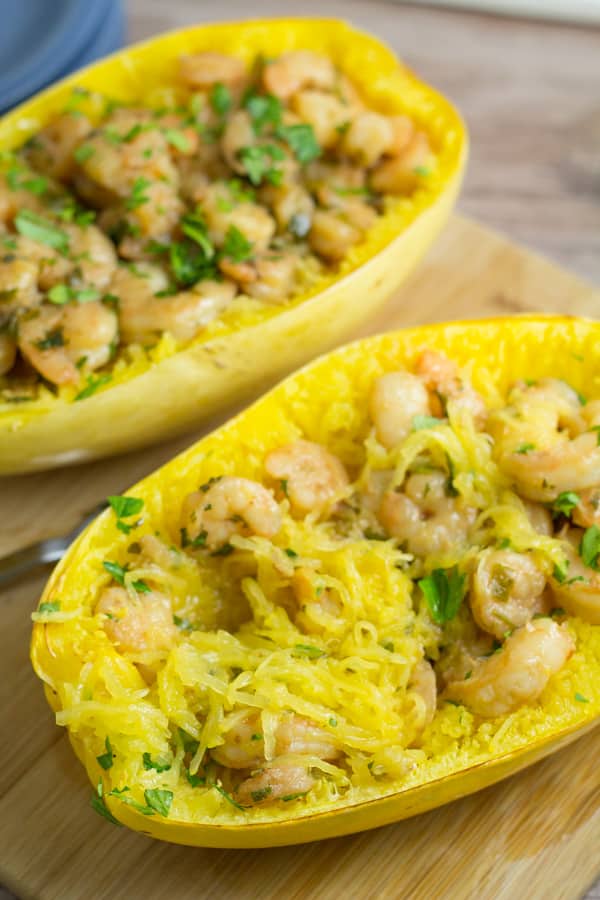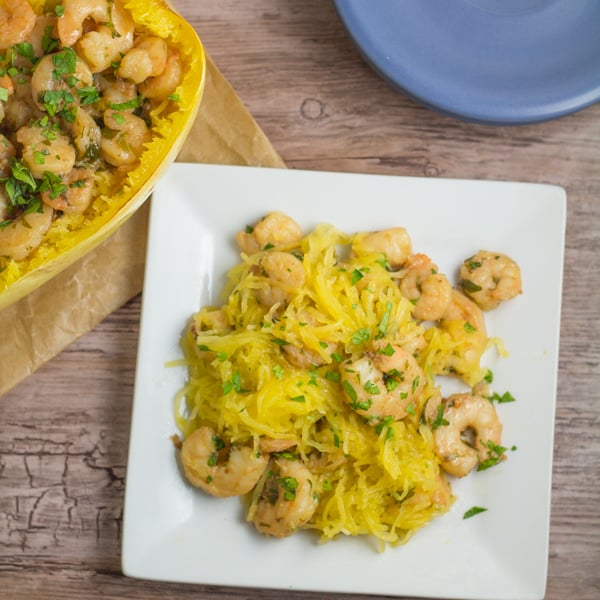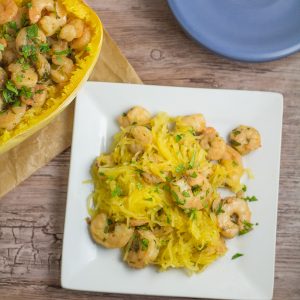 Shrimp Scampi Spaghetti Squash
Ingredients
1

spaghetti squash (about 3 lbs)

4

tbsp

butter

4

tbsp

olive oil

plus more for brushing

1

small shallot

minced

2

cloves

of garlic

minced

1

lb

shrimp

peeled and deveined

1/2

cup

white wine

(can substitute with 1/2 cup of chicken stock)

Juice of 1 lemon

salt and pepper to taste

1/4

cup

chopped parsley

plus more for garnish
Instructions
Cooking the spaghetti squash
Preheat oven to 400º F

With a knife, carefully score squash lengthwise where you're going to cut it in half. Poke a few holes along the score.

Microwave the squash for 5 minutes. This step is done so that the squash is easier to cut in a half. Allow to cool.

Carefully cut the squash in a half. Scoop out the seeds.

Brush the inside of both halves of the squash with olive oil. Season with salt and pepper.

Place the two halves cut side down on a baking sheet lined with parchment paper.

Roast the squash until tender, about 30 minutes.
Cooking the shrimp
While the spaghetti squash is cooling down, heat a large skillet over medium-high heat. Melt 2 tbsp butter and 2 tbsp olive oil.

Add shallots, garlic and red pepper flakes and cook until shallots are translucent, about 3 minutes.

Season shrimp with salt and pepper and add to the skillet. Cook until shrimp has turned pink, about 3 minutes.

Remove shrimp from the skillet and set aside.

Add wine (or chicken stock) and lemon to the pan. Bring to a boil. Add the remaining 2 tbsp butter and olive oil.

Stir until butter has melted. Stir in the parsley and return the shrimp to the skillet.
Putting it together
Using a fork, scrape the insides of the squash to create a spaghetti-like texture.

Carefully transfer the contents of the spaghetti squash to the large skillet and mix with the shrimp. Alternatively, you may serve directly on the spaghetti squash halves by transferring half of the shrimp mixture to each squash half. Garnish with more parsley. Serve and enjoy!