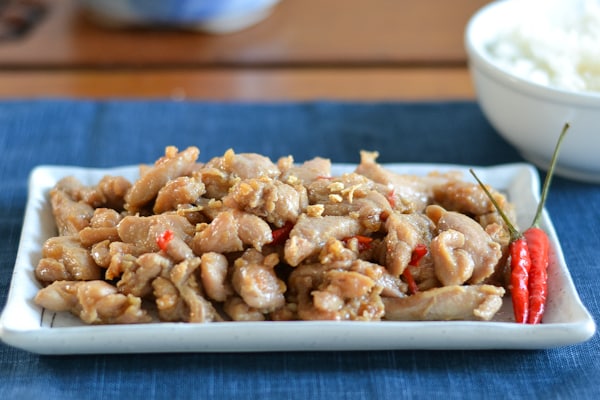 I realize that I cook a lot of chicken dishes for my family. This is because chicken is such a versatile meat. It is also easy to prepare and compared to pork and beef, it takes shorter time to cook.  I always buy chickens in bulk and freeze it. This way I can easily prepare chicken dishes any time I want. Just like the other day, I was able to cook spicy garlic chicken for dinner in less than half an hour.
Spicy garlic chicken or gratiam prik Thai gai is a Thai dish that I got from a cookbook lent to me by my niece. It consists of strips of chicken pieces marinated and then stir-fried with chili peppers and fried garlic. This dish is delicious and spicy but if you cannot take spicy food at all, you may omit the chili peppers. I am pretty sure it will still taste as good 😀

Spicy Garlic Chicken
Ingredients
1 lb. skinless, boneless chicken thighs, cut into small strips
1 tablespoon granulated garlic
½ tablespoon ground white pepper
2 tablespoons oyster sauce
1 tablespoon soy sauce
½ teaspoon sugar
4 tablespoons vegetable oil
2 tablespoons fried garlic (available at any Asian store)
1-2 fresh hot chili peppers, chopped
Instructions
Marinate the chicken with the granulated garlic, white pepper, oyster sauce, soy sauce and sugar. Set aside for 10 minutes.
Heat oil over high heat in a skillet or wok. When the oil gets very hot, add the chicken mixture. Keep stirring until the meat is well-done, around 5 minutes.
Stir in hot peppers and fried garlic. Mix well. Remove from heat.
Serve with steamed rice.
Enjoy!
Notes
This recipe was adapted from the cookbook ``Thai Cooking in a Sufi`s Kitchen".