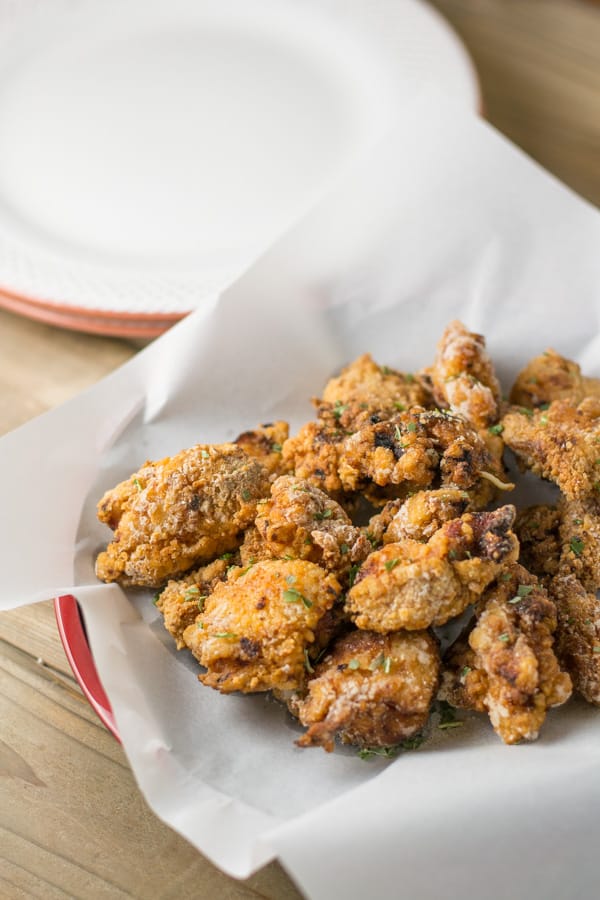 My family and I love chicken chicharrones and chicken karaage. Both are bite-sized chicken thigh pieces marinated in spices, coated with flour or cornstarch and then fried until golden brown. One is the Dominican Republic's version of fried chicken while the other one is Japanese style. This Taiwanese popcorn chicken recipe is similar to these two nuggets recipes. Marinating the chicken pieces in spices for at least half an hour or overnight yields tastier and more flavorful chicken nuggets. All three recipes use chicken thighs for tender and juicy fried chicken. Seasoning the chicken pieces with salt and ground white pepper after frying brings out the incredible flavor and texture of these delicious chicken nuggets. Enjoy!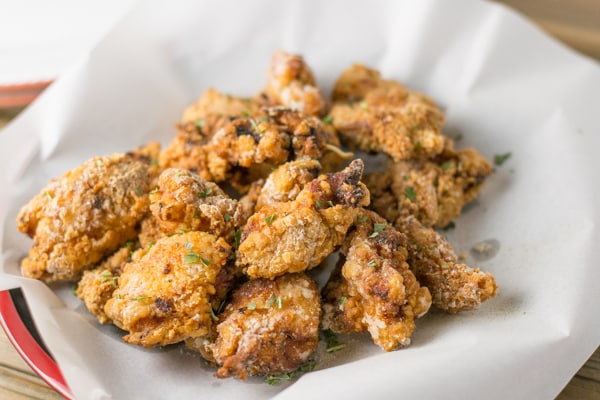 Taiwanese Popcorn Chicken
Serves:
6 appetizer servings
Ingredients
1½ lbs boneless skinless chicken thighs
1 medium head of garlic, peeled and minced
½-inch ginger, peeled and minced
2 green onions, white and green part, minced
2 tbsp soy sauce
1 tbsp mirin
1 tsp potato starch or cornstarch
½ tsp five spices powder
½ tsp ground white pepper
¼ tsp cayenne pepper
1 egg
½ cup cold water
2-3 cups potato starch or cornstarch
3-4 cups vegetable, peanut or avocado oil
Salt and white pepper, to taste
Instructions
Cut the chicken into bite-sized pieces.
In a bowl, combine together minced garlic, ginger, green onions, soy sauce, mirin, potato starch, five spices powder, white pepper and cayenne pepper. Add the chicken pieces and mix to coat. Cover with plastic wrap and refrigerate for at least half an hour or overnight.
Beat the egg in a medium sized bowl with the ½ cup of water. Spread the potato starch in a shallow dish.
Heat the frying oil in a sauté pan or wok until it reaches 350˚F. Using chopsticks or tongs, dip the chicken first in the watery egg mixture then in the starch and fry the chicken pieces without crowding them too much for 3-4 minutes or until golden brown. Drain the browned chicken on a wire rack or a plate lined with paper towels. Immediately toss with generous amounts of salt and white pepper to taste.
Serve and enjoy!