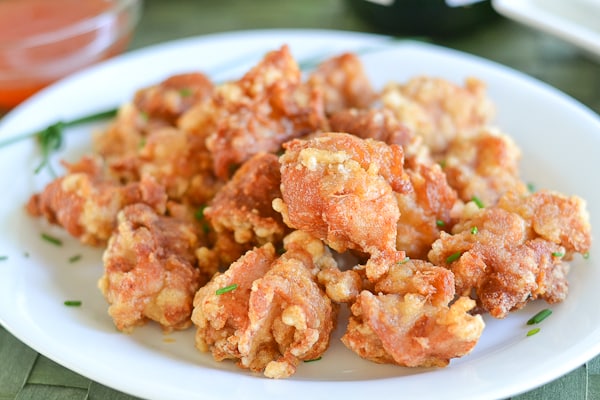 My oldest son inspired me to make this chicken dish. It is one of his favorite among the Japanese dishes. One night, I was watching the food TV show "Eat Street" where they featured this Vancouver food truck called "Mogu".  My son pointed out how popular the food truck is among his friends and that their chicken kara-age is to die for. I have tasted chicken karaage before but was not motivated enough to make it. But after watching the show and learning how simple the ingredients were, I decided to make it at home. Chicken thighs with skin on are usually used for juicier fried chicken. Furthermore, marinating the chicken for several hours or longer will yield a more flavorful and tasty pieces. I am glad I made this awesome dish. My family ate it as is but I had mine with chili sauce. Delicious!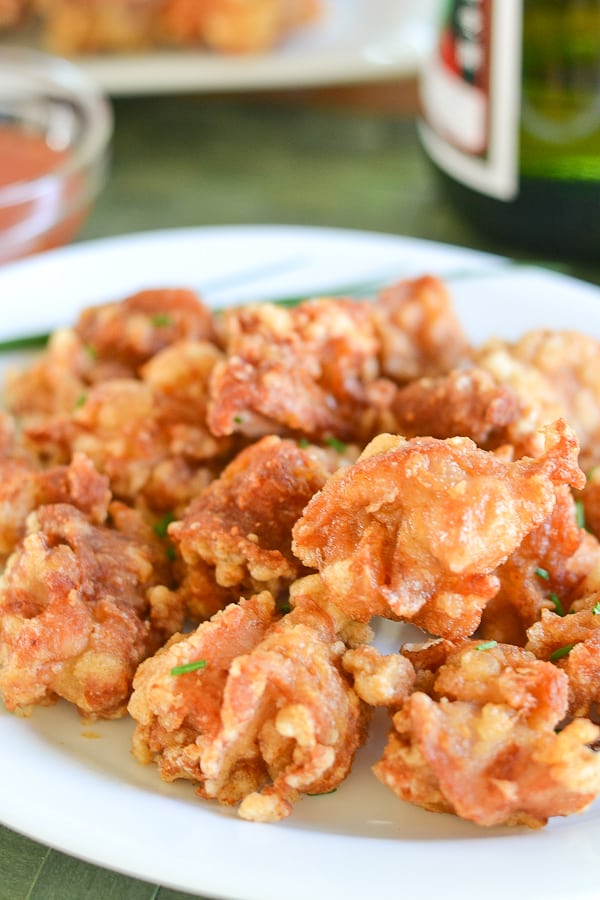 Chicken Karaage (Japanese Style Fried Chicken)
Ingredients
2 lbs chicken thighs, boneless, skin on
6 tbsp soy sauce
4 tbsp sake
1 tbsp grated ginger
1 tbsp grated garlic
2 eggs
1 cup potato starch or cornstarch
vegetable oil for frying
Instructions
Cut chicken into bite-sized pieces.
Put chicken, soy sauce, sake, ginger, garlic and eggs in a Ziploc bag and mix well; marinate for 2-3 hours or overnight.
Transfer marinated chicken into a large bowl. Add potato starch; mix well.
Heat oil in a large pan and fry chicken in batches, until browned and cooked through. Drain on paper towels and serve.
Enjoy!
Check out some of my other Asian inspired chicken dishes.
Sticky Honey Sesame Drumsticks