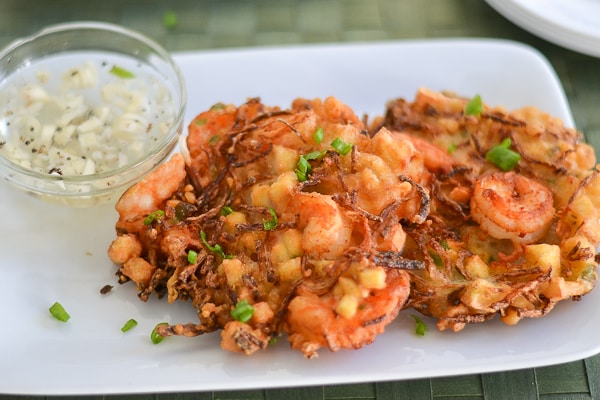 My oldest son just came back from an 11 day trip. I knew that he would miss home-cooked food, so for his first day back, I decided to cook one of his favorite dishes: ukoy. Ukoy is a popular Filipino shrimp and vegetable fritters. There are several ways to cook ukoy. Some used whole small shrimps but I prefer to use the shelled ones. A variety of vegetables can be used in this dish, depending on the region or personal preference. I like mine simple, so I just used bean sprouts, tofu and green onions. The shrimp and vegetables are mixed with a batter and then deep fried. The result is crispy, brown and delicious fritters. It taste even better dipped in vinegar garlic sauce. Yum!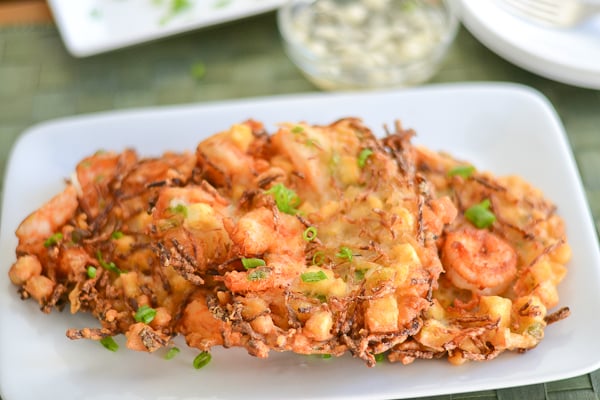 Ukoy (Shrimp and Vegetable Fritters)
Ingredients
3 cups bean sprouts, washed and drained
1 cup cubed firm tofu
2 green onions, chopped
1 lb fresh shrimps, heads removed, peeled and deveined
Vegetable oil for frying
Batter
½ cup cornstarch
½ cup flour
1 ½ tsp baking powder
1 tsp salt
¾ cup water
Instructions
Combine together batter ingredients. Mix until smooth. Stir in bean sprouts, tofu, green onions and shrimp.
Heat oil in a frying pan over medium high heat. Scoop two large spoonful of mixture in hot oil; flatten with the back of the spoon. Fry until golden brown and crispy on both sides, about 5 minutes. Drain.
Repeat process until all mixture has been used.
Serve with vinegar garlic dipping sauce.
Notes
To make the vinegar-garlic dipping sauce: Combine ⅓ cup white vinegar, 2 cloves garlic, chopped, ½ teaspoon salt and ¼ teaspoon freshly ground pepper.