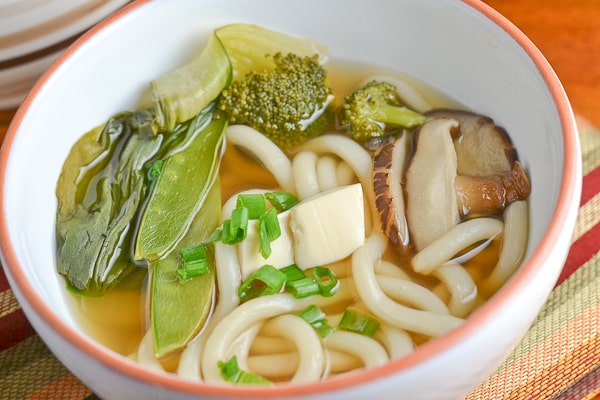 I am so excited! One more week and it is spring break. It means colorful flowers, warmer weather and most of all no work for two weeks. Although we are experiencing good and sunny weather these past few days, late nights and early mornings are still chilly and cold. A bowl of this hot vegetable udon soup is just perfect to have on those cold nights or for those who are suffering or recovering from a cold. I used the Hon Dashi's granules and water as the base for the soup and just added mirin, soy sauce, sake and salt for added flavors. I have used the same soup base for my miso soup and other udon soup. This is a very flexible dish; you can add any vegetables you want. It is a simple and easy soup to make and yet very comforting for the soul. Enjoy!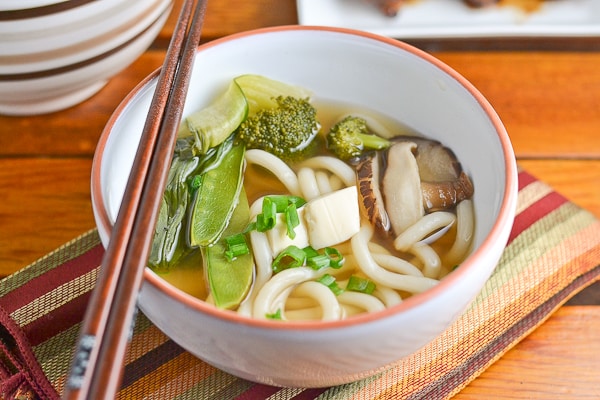 Vegetable Udon Soup
Ingredients
8 cups water
5 tsp Hon Dashi bonito soup stock (granules)
4 tbsp soy sauce
2 tbsp mirin
1 tsp sake
½ tsp sea salt
2 large bok choy, rinsed and hard ends trimmed
1 cup broccoli florets
6 pieces fresh shitake mushrooms, sliced
20 pieces snow peas
1 ½ lb packaged fresh udon noodles
1 (300g) package soft tofu, cubed
Chopped green onions
Instructions
In a medium size stockpot, bring water to a boil. Add soup stock granules, soy sauce, mirin, sake and salt; continue to boil until granules are dissolved.
Add the vegetables and noodles; cook for 4-5 minutes or until noodles are tender. Add tofu; cook for another minute or two.
Transfer to soup bowls and garnish with chopped onions.
Serve and enjoy!