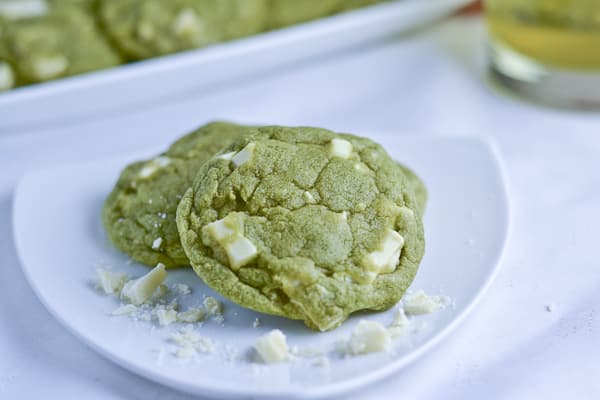 My youngest son and I did some baking on Sunday. He made these tea sugar cookies that he learned from his friend while I made white chocolate green tea matcha cookies. It was a fun day to spend a cold and rainy day. It went well as we shared the kitchen space and used the oven efficiently. My cookies were baking in the oven while his cookie dough was chilling in the fridge. His cookies turned out browned and crunchy, which my husband really loves, while mine were soft and chewy, the way I like my cookies to be. My son generously shared his cookies with his friends while I kept mine at home for my family. They really enjoyed these sweet treats as a snack. 
Matcha Green Tea White Chocolate Cookies
Ingredients
2 cups all-purpose flour
1 tbsp green tea powder (matcha), suitable for baking
½ tsp baking soda
½ tsp salt
1 cup packed brown sugar
¾ cup unsalted butter, melted
½ cup granulated sugar
1 tbsp vanilla extract
1 egg
1 egg yolk
1 ½ cups roughly chopped white chocolate or white chocolate chips
Instructions
Preheat oven to 325 degrees F. Grease baking sheets or line with parchment paper.
Sift flour, matcha, baking soda and salt together in a bowl. Beat brown sugar, butter and white sugar together in a large bowl using an electric mixer until blended; beat in vanilla extract, egg and egg yolk until light and creamy.
Mix flour mixture into creamed butter until dough is just blended; fold in white chocolate using a wooden spoon. Drop cookie dough, 1 heaping tablespoon per cookie, onto the prepared baking sheet 2 to 3 inches apart.
Bake 8 to 10 minutes, or until edges are lightly browned. Cool cookies on baking sheet for 3 minutes then transfer to rack to cool completely.