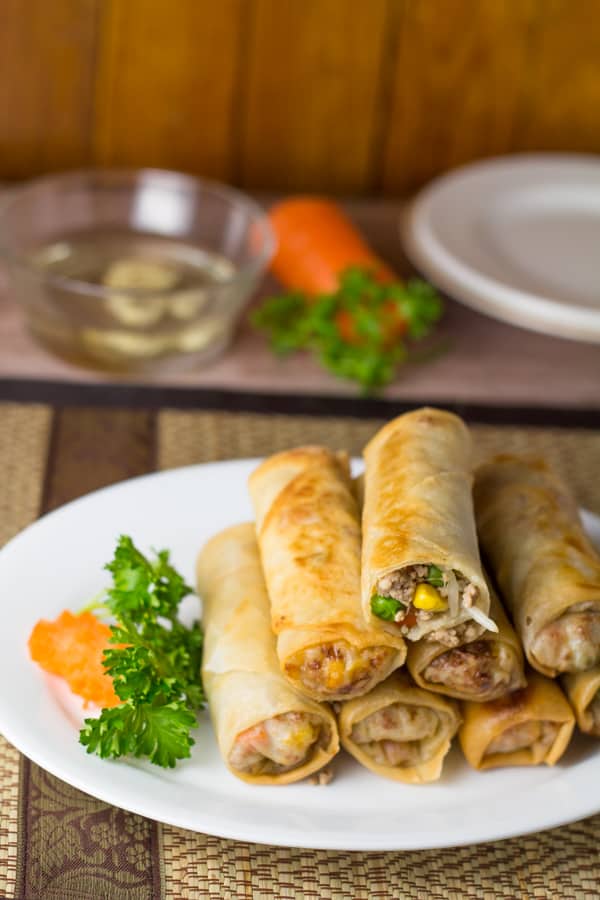 Lumpiang prito is a Filipino dish which literally means fried spring roll. Along with pancit bihon and lumpiang shanghai, lumpiang prito is a dish that is commonly served during Holidays and birthday parties. These fried spring rolls are filled with ground pork and mixed vegetables. The kind of vegetables used varies, depending on one's preference. I have used green beans, sliced into small diagonal pieces, as well as julienned carrots. It was only recently that I started using frozen mixed vegetables, which I find convenient and easy to use. In this recipe, the filling is first cooked, cooled, wrapped in a pastry and then fried. The result is savory, crunchy spring rolls that my husband and I can't get enough of. It tastes even better with garlic-vinegar dipping sauce. Yummy!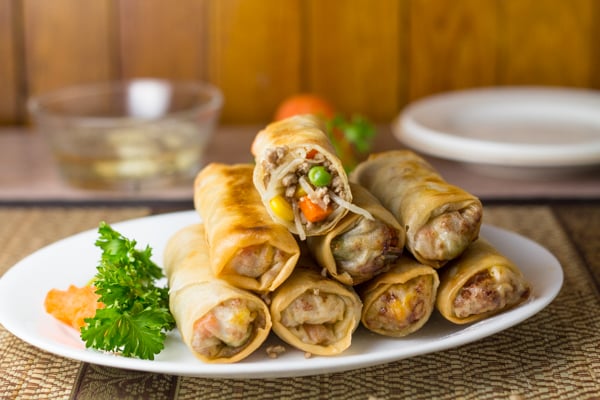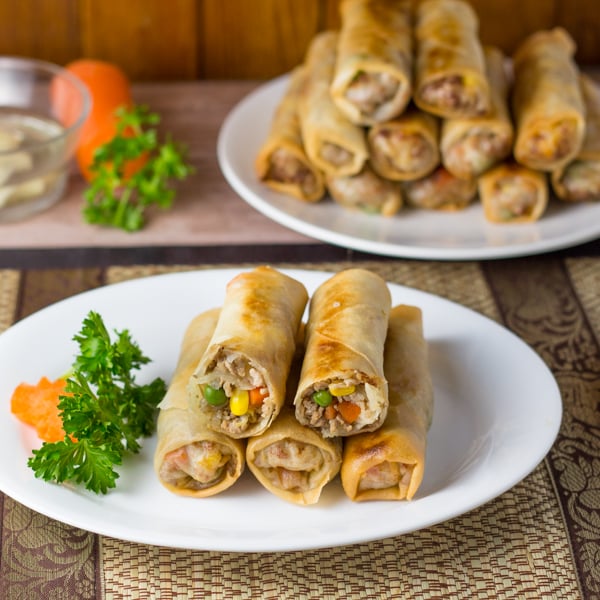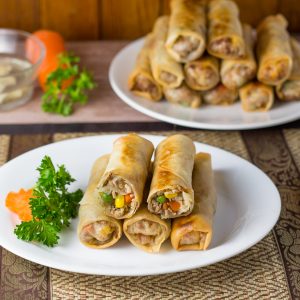 Lumpiang Prito (Pork and Vegetable Spring Roll)
Ingredients
2

tablespoons

olive oil

1

shallot,

chopped

1

lb

lean ground pork

2

cups

frozen mixed vegetables,

thawed

2

tablespoons

soy sauce

2

tablespoons

oyster sauce

2

cups

bean sprouts,

rinsed and drained well

Kosher salt and freshly ground black pepper

to taste

1

(8X8-in) frozen spring roll pastry, thawed and separated

Vegetable oil for frying
Instructions
Heat oil in a skillet over medium high heat. Add shallot and sauté for 2 minutes or until soft.

Add ground pork and cook for 4-5 minutes or until meat is cooked and no longer pink.

Add mixed vegetables, soy sauce and oyster sauce. Stir, cover and cook for 4 minutes or until vegetables are cooked.

Stir in bean sprouts and correct seasonings with salt and pepper to taste.

Remove from heat and strain on a stainless colander and let cool to room temperature.

Wrap in a spring roll pastry. For steps on how to wrap spring roll, click here. (For lumping prito, scoop two tablespoonfulls of filling instead of one.)

Fry in hot oil until golden brown on all sides, around 4-6 minutes. Drain on paper towel.

Serve with garlic-vinegar dip. Enjoy!
Notes
Vinegar-Garlic Dipping Sauce: Combine ¼ cup vinegar, 1 clove crushed garlic, ½ teaspoon kosher salt and ¼ teaspoon black pepper.