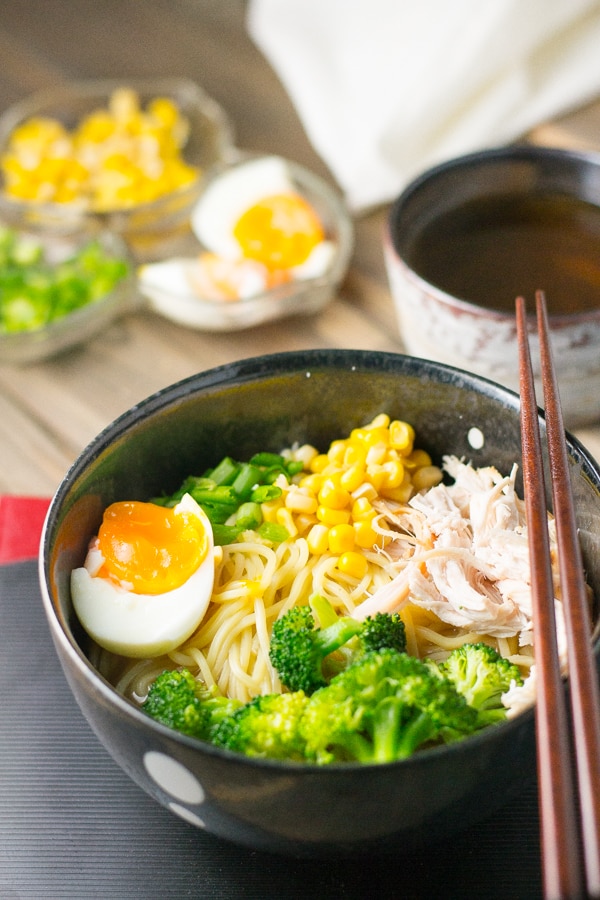 My family loves noodle dishes. There's something about the long strands and the soft texture that is so comforting.  In fact, I have shared few of our favorites with you over the years.  Some of them are: chicken chow mein, chicken pad thai, char kway teow and couple of famous Filipino noodle dishes, chicken sotanghon and pancit bihon. Ramen noodles are another of our family's favorites. This chicken ramen soup recipe is inspired by all the times we eat out at different amazing ramen restaurants around town. Because my family loves it so much, I wanted to try my own version. I even used my own homemade broth using the leftovers from when we have our weekly rotisserie chicken. However, you can also use store-bought broth if it is more convenient. The rest of the recipe is so easy, since it just a matter of combining all of the ingredients after flavoring the broth. You can also use whatever toppings you prefer to make it your own. This chicken ramen soup is an ultimate comfort food and will definitely warm you up on a cold winter's day. Enjoy!
Chicken Ramen
Ingredients
4 (110 g) ramen noodles, fresh or dried
7 cups chicken broth (I used homemade broth, see notes below for recipe)
4 tbsp soy sauce
2 tbsp sake
1 tsp sesame oil
2 cups broccoli florets
Toppings:
Shredded cooked chicken meat (I used rotisserie chicken meat)
Corn kernels
Chopped green onions
2 soft boiled eggs, halved
Instructions
Cook ramen noodles according to package directions. Drain.
In a medium pot, combine chicken broth, soy sauce, sake and sesame oil. Bring to a boil and then reduce to a simmer. Add broccoli and simmer for 2 minutes or until florets are crisp-tender.
Divide the ramen noodles into four soup bowls. Ladle soup (with broccoli) onto the noodles. Top each bowl with shredded chicken meat, corn kernels, chopped green onions and halved soft boiled egg.
Serve and enjoy!
Notes
For homemade broth: In a pot, combine 10 cups water, rotisserie chicken bones, chopped onions, salt, ground pepper and dried parsley. Add any vegetables (carrot, celery) you like; I added Chinese or napa cabbage. Boil and let simmer for 30 minutes. Adjust seasoning with salt and pepper to taste. Drain and use as broth.