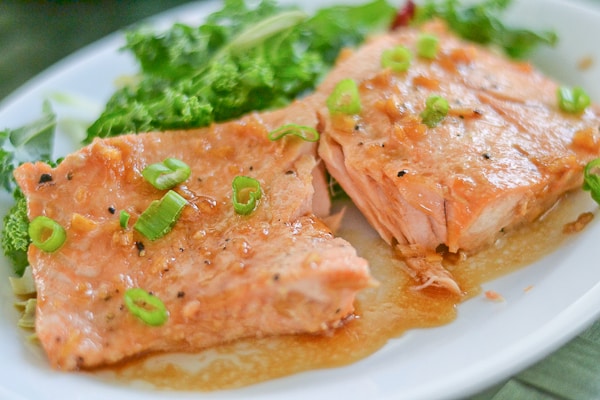 There's something about teriyaki sauce that brings out the best in any dish, whether it's beef, chicken or vegetables. My family already loves salmon so I decided to combine it with a delicious teriyaki sauce.  The salmon pieces were seared first and then cooked in the sweet sauce for few minutes. The salmon was perfectly cooked and tasted great. My family enjoyed it with steamed rice but I had mine with salad. I will definitely add this one to my family's list of favorite salmon recipes.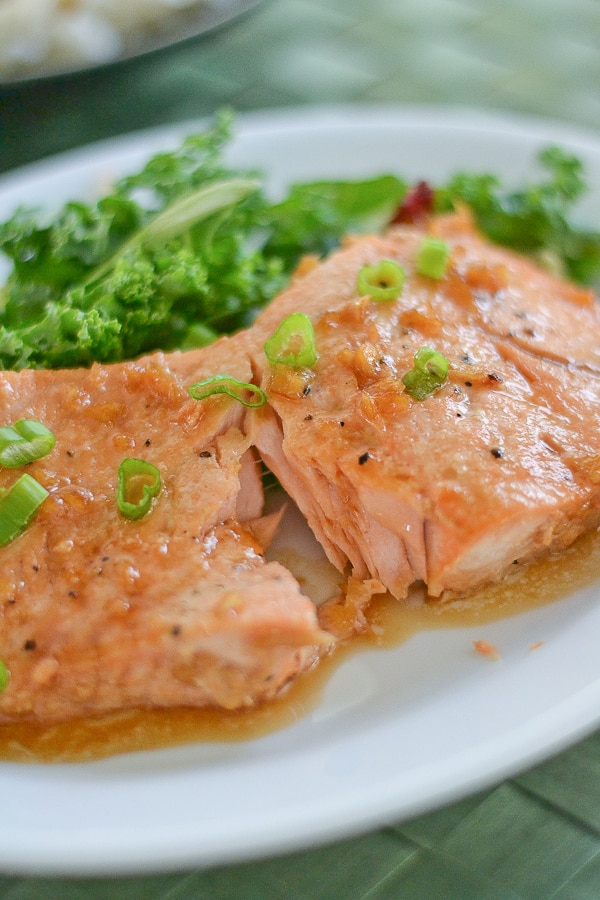 Salmon Teriyaki
Ingredients
1 ½ pounds skinless salmon fillet, cut into 4 pieces
2 tablespoons olive oil
2 green onions, chopped
1 pinch salt and pepper
Teriyaki sauce
½ cup sake or white wine
¼ cup soy sauce
½ cup mirin
½ cup rice wine vinegar
3 tablespoons brown sugar
1 clove garlic, finely chopped
1 tablespoon finely chopped ginger
Instructions
Place all the sauce ingredients in a saucepan and bring to a boil. Reduce until 125 ml (1/2 cup) remains, about 12 minutes.
Season salmon pieces with salt and pepper. Heat oil in a non-stick pan or skillet over medium heat; add the salmon pieces and sear on both sides. Add the sauce and continue cooking, spooning the sauce over the fish, until desired doneness, about 3 minutes.
Garnish with green onions and serve with steamed rice or salad.
If you enjoyed this healthy baked salmon dish, here are some others that I have made:
Salmon with Creole Mustard Sauce
Roasted Salmon with Potatoes and Mushrooms
Broiled Salmon with Ginger Honey Glaze
Oven Poached Salmon with Honey and Thyme