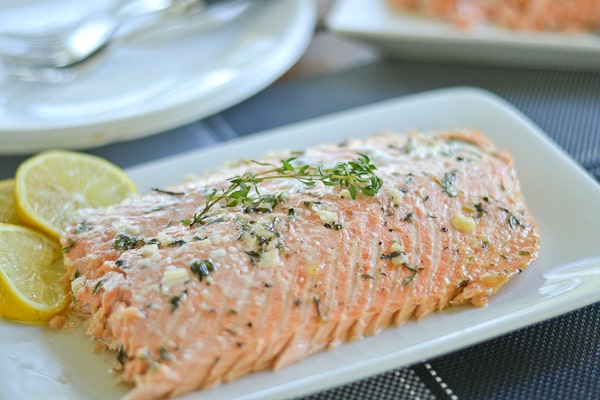 A friend of mine gave me a whole bunch of fresh thyme that came from her garden. I just love the smell and aroma of thyme in my kitchen and have been using it a lot in my cooking. In fact, I just used them on Tuesday when I cooked salmon for dinner. The salmon was seasoned with a mixture of honey, white wine vinegar, extra virgin oil, chopped fresh thyme and minced garlic and then poached in the oven for 25 minutes. The salmon turned out tender, moist and succulent. I also love the accumulated juices; it was sweet and tasty. I never thought salmon, honey and thyme together could be this good. My family and I truly enjoyed this delicious and healthy salmon dish.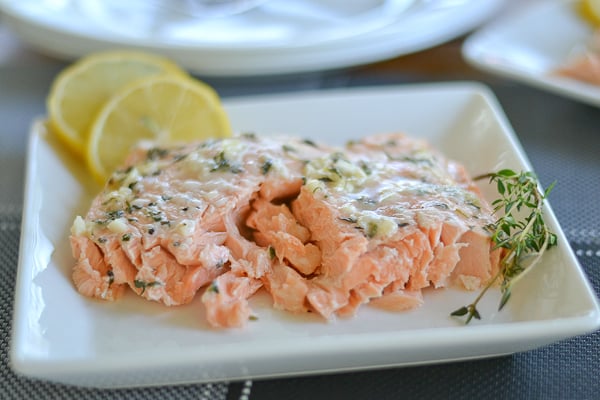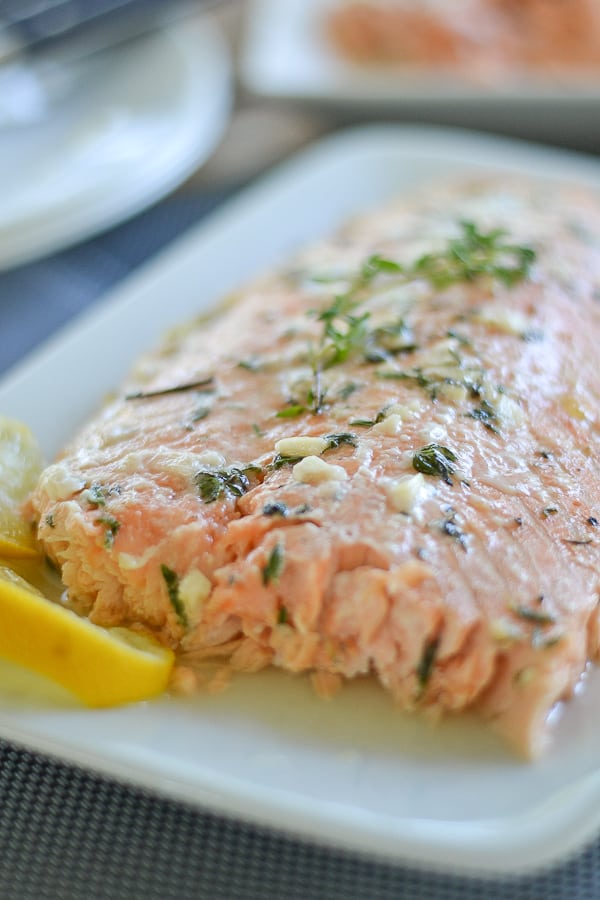 Oven Poached Salmon with Honey and Thyme
Ingredients
3 tbsp honey
1tbsp white wine vinegar
1 tbsp extra-virgin olive oil
1tbsp minced fresh thyme
2 garlic cloves, minced
1 whole skinless salmon fillet (about 2 lbs)
Sea salt and freshly ground pepper
Instructions
Preheat the oven to 375° F.
In a small bowl, whisk together the honey, white wine vinegar, olive oil, thyme and garlic. Set aside.
Lay the salmon on a double sheet of foil on a rimless baking sheet. Season salmon with sea salt and freshly ground pepper. Drizzle with honey mixture, enclose in foil and then seal to form a packet.
Baked for 25 minutes or until fish flakes easily when tested. Take care not to overcook the salmon.
Unwrap the foil, carefully transfer salmon into platter and then spoon some accumulated juices over salmon.
Serve and enjoy!
If you enjoyed this healthy baked salmon dish, here are some others that I have made:
Salmon with Creole Mustard Sauce
Roasted Salmon with Potatoes and Mushrooms
Broiled Salmon with Ginger Honey Glaze