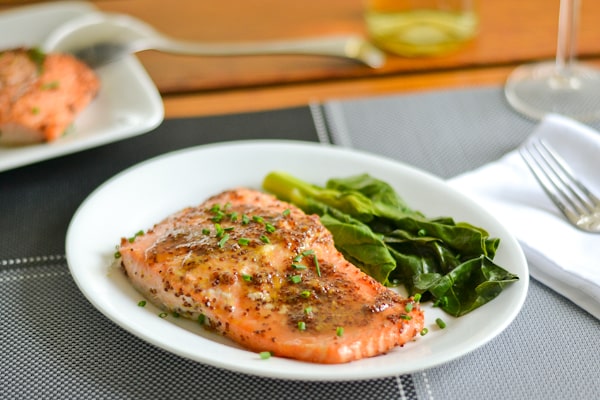 Salmon is a staple fish in my house, especially baked. It is a type of fish that my whole family loves to eat.  So, I am constantly looking for new recipes and other ways of preparing it. I have tried many but not all have been appreciated and enjoyed by the whole family. Maple mustard baked salmon is a dish my whole family really enjoys. It is sweet, succulent and delicious. I will definitely add this dish to my list of family's favorite recipes. I hope you'll enjoy this simple and easy dish as much as my family does.

Maple Mustard Baked Salmon
Ingredients
3 salmon fillets, about 8 oz each
½ cup maple syrup
½ cup old style prepared mustard
Sea salt and freshly ground pepper
Instructions
Put salmon pieces in a baking dish and season them with salt and pepper.
In a bowl, combine maple syrup and mustard. Pour over salmon pieces, cover with plastic wrap and let marinade in the fridge for 2 hours.
Remove the salmon pieces from the marinade and transfer on a baking pan lined with foil. Bake at preheated 400°F oven for 12 minutes.
Serve with rice or with your favorite salad.
Enjoy!
Notes
Recipe adapted from "The Best of Chef at Home" cookbook.